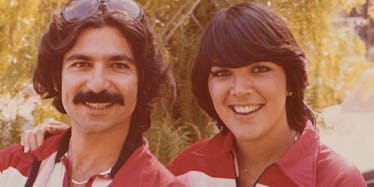 Kris Jenner Posts Heartbreaking Tribute For Late Robert Kardashian's Birthday
Instagram
On February 22, Robert Kardashian would have turned 73. It was 13 years ago the patriarch of the Kardashian family lost his battle with esophageal cancer.
The attorney is still ever present in his children's lives and is often seen on their social media accounts and heartfelt home videos.
His youngest child Rob Kardashian shared two photos on Instagram of his father.
He wrote,
Happy birthday dad woohoo! Wish you were here to meet Dream.
This isn't the first time Rob expressed his wishes of having his dad meet his granddaughter Dream.
Back in November, Rob posted a side-by-side photo of his daughter and his father and wrote,
She's an exact copy. Pops sent us an angel. It's truly a blessing. He's happier than anyone on this day I'm so happy and thankful  GOODNIGHT.
Kim Kardashian also sent out a special Tweet dedicated her father.
She tweeted,
Happy Birthday dad! I love this family photo. I love our family. Thank you for EVERYTHING. I'm so grateful you are my dad! I found a 3 page letter my dad wrote me right after high school about life and it's so special to have. I re-read it last night. I write my kids a letter each year reflecting on the year we had together & fun memories. I'll give the letter to them when they turn 21.
Kourtney Kardashian, Robert's oldest child, posted a photo of her parents on Instagram.
But it was Robert's ex-wife Kris Jenner who shared a truly heartbreaking post about her late former husband.
She wrote,
There's not a day that goes by that we don't miss you. Forever grateful for the love you gave, the lessons you taught the kids, and the memories we shared. Missing you always. I am so blessed to have had you in my life and I cherish every single memory. I love you. Happy birthday Robert.
Robert Kardashian was only 59 when he died. He was diagnosed with cancer in July 2003 and just shy of eight weeks later, he passed away on September 30, 2003.
Citations: Kim Kardashian Honors Late Father Robert Senior on His Birthday: 'I'm So Grateful You Are My Dad' (People)