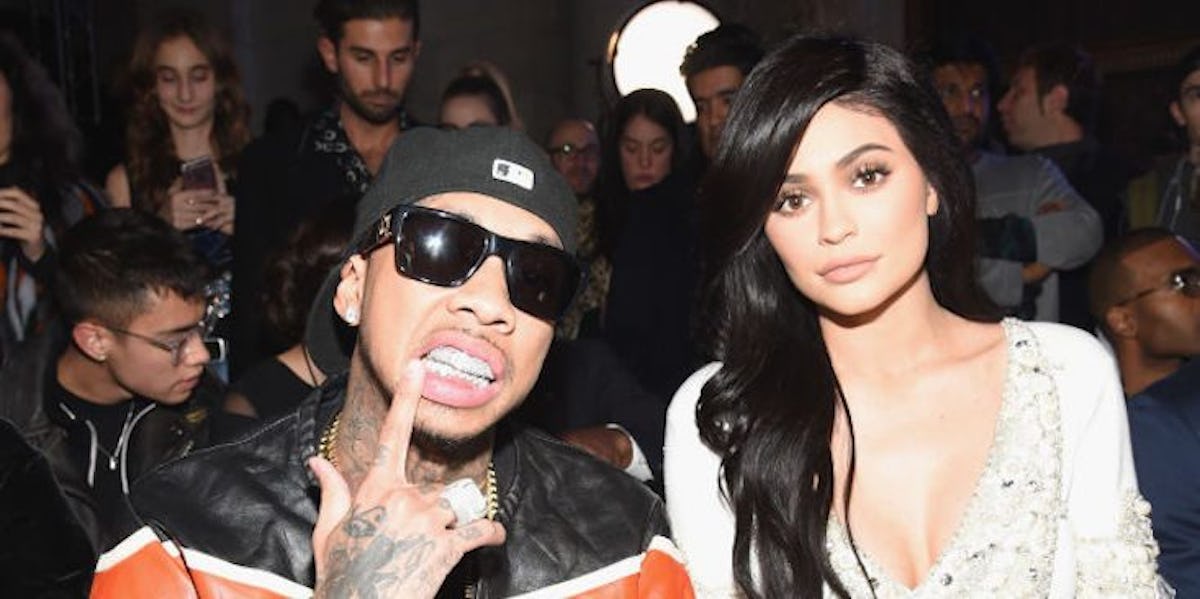 The Kardashians Reportedly Threw Shade At Tyga After Kylie Jenner Pregnancy Rumors
Dimitrios Kambouris/Getty Images for Philipp Plein
Remember when the only couple we could talk about was Kylie Jenner and Tyga? Their relationship lasted about 30 years — I'm pretty sure or that's what it just felt like. Then, after a lot of back and forth, she and Tyga split for good. In April, she started dating Travis Scott and we were all OK with it. As it turns out, her family may have been the most relieved about Kylie's new boyfriend. The Kardashians reportedly shaded Tyga after Kylie's pregnancy news and it was a little surprising.
News broke through TMZ on Friday, Sept. 22, that the youngest of the fam, Kylie Jenner, is reportedly expecting a baby with her boyfriend, Travis Scott. The outlet claims sources close to Scott told TMZ that Jenner is reportedly pregnant with the "Antidote" rapper's baby. Elite Daily reached out to both Jenner and Scott's teams, but did not hear back by the time of publication.
According to TMZ, Jenner has also reportedly been spilling the news during the past month to friends. Although they "cannot verify," TMZ says the couple is reportedly having a girl. So… take that for what it's worth.
Kylie Jenner has still not responded publicly to rumors about her reported pregnancy and we're all freaking out. What the hell is going on at camp Kardashian-Jenner? It's important to keep in mind that nothing has been confirmed, but nothing has been denied. Tricky, tricky.
While there have been mixed reports about the reactions to Kylie's reported pregnancy, it seems that the Kardashian family is more concerned with Kylie's relationship. A Keeping Up With The Kardashians source told People the famous family is "worried" about Kylie and Travis' future together. The source said,
It's hard for her family to imagine Kylie's relationship with Travis will last. They are worried there will be lots of drama down the road.
The Kardashian family has had their fair share of drama — so I'm sure they know what they're talking about.
The source did add that the family is offering support to Kylie and Travis.
Her family will help Kylie out as much as possible.
Although they have concerns about the relationship, the Kardashian-Jenners seem to like Travis as a person. The source said they think Travis is a "great guy" who "treats Kylie really well."
Then, some serious shade started to get thrown around about Kylie's ex, Tyga. The source included a little jab at the "Rack City" rapper by saying,
He is nothing like Tyga. He doesn't have any obvious financial issues. He doesn't go behind Kylie's back, but it's a very new relationship they are bringing a baby into.
Poor Tyga, just when he thought he was done in the Kardashian world, they suck him right back in. It doesn't actually seem like Tyga and Kylie have any bad blood between them. During an interview in July with Power 105.1 The Breakfast Club Tyga said,
I have love for her, but I'm not in love no more… When you're with anybody that first year, it's magic and then after that you start realizing a bunch of sh*t. I think the main thing was a lot of people—a lot of outside influences—and… she's younger than me and she's dealing with perception. I'm older so I can deal with perception. But for her, growing up how she grew up, image and perception was everything.
There's no denying that outside opinions are a constant in Kylie's life. She also acknowledged that she "cannot win with the internet." Kylie got candid about her breakup with Tyga on an episode of Life Of Kylie. The makeup mogul admitted,
The hardest part about having a relationship for me is just that it's blasted all over the internet. You have to hear about other people's opinions on who you're with. It's a lot. Most of the time it's just not true. Like, you have no idea what I'm like in a relationship, [or] what kind of bond I have with somebody else. You cannot win with the internet. There's just no winning. It's just unnecessary negativity.
Fame sounds like a bummer when you put it that way. The two have moved on since their relationship and seem to be doing well — Tyga is even reportedly dating Kim K lookalike, Kamilla Osman. Luckily for Kylie, Travis has reportedly been very supportive. The source from People said that Travis is excited about the reported pregnancy.
He was so excited, he couldn't keep it in. He's been so affectionate and protective of Kylie since they found out. He can't wait to be a dad.
Well, that's sweet. Whether these pregnancy reports turn out to be true or false, I hope Kylie Jenner and Travis Scott (and Tyga, too) can continue being happy and living their lives.
Check out the entire Gen Why series and other videos on Facebook and the Bustle app across Apple TV, Roku, and Amazon Fire TV.