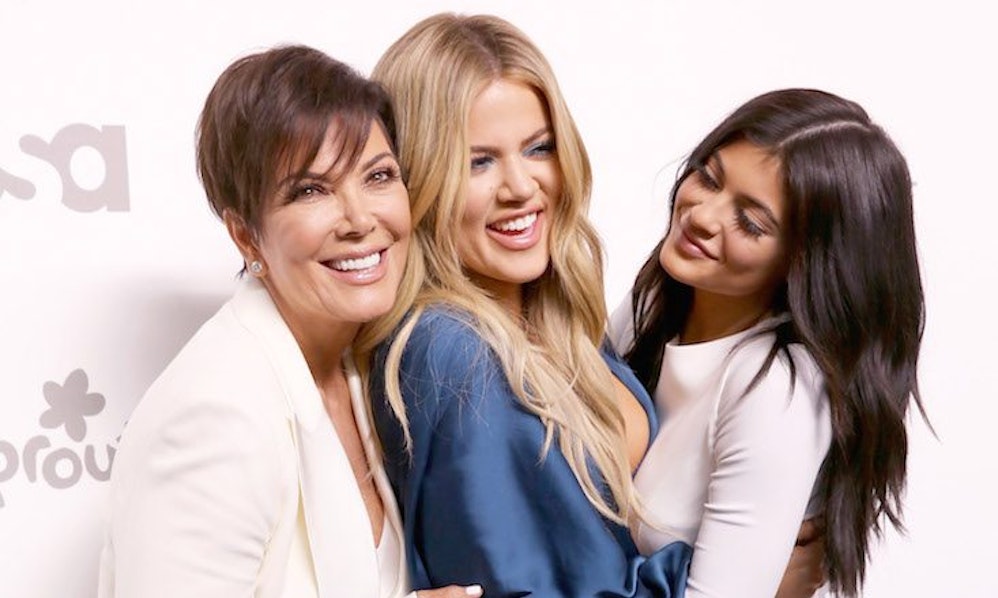 Robin Marchant/Getty Images
How Would Khloe Kardashian & Kylie Jenner's Babies Be Related? Here's The Family Tree
No, that sonic boom you heard wasn't North Korea bombing us, but the way the entire internet stopped, it might as well be. That was the sound of Kris Jenner dropping her final (?) promotional bomb for the new season of Keeping Up With The Kardashians, with the third baby rumor announcement in less than ten weeks, as reports came out that Khloé Kardashian might be pregnant. If so, Khloé Kardashian and Kylie Jenner's babies are going to be related. I know, most of you are asking, but how exactly?
UPDATE: On Dec. 20, Khloe Kardashian confirmed that she is expecting a baby with Tristan Thompson in an Instagram post.
EARLIER: Let's break it down, and explain the transitive properties of Jenners and Kardashians. Buckle up y'all, we're doing genealogy.
So let's rewind back to the 1990s. There was this football player, his name was O.J. Simpson. And his team of lawyers got really famous on a channel called CourtTV where we all watched several "Trials of the Century" unfold, including the Simpson one.
One of those lawyers was a man named Robert Kardashian. Prior to O.J., his biggest claim to fame was dating Priscilla Presley in the 1970s. He lived a modest lawyer's life in Los Angeles, with a wife named Kris and four kids. His son was Robert Jr., and his girls, like his wife, were all K names, how Kute.
Robert and Kris separated in 1991, four years before he became a household name as O.J.'s lawyer. Despite divorcing her, he never could quit her, and all his subsequent stabs at relationships were failures, until he died in 2003.
Kris, meanwhile, moved on and was remarried before 1991 was even over. She married a former Olympian who was then known as Bruce Jenner. As we know, since then, she has come out as trans, and renamed herself Caitlyn. Kris' children all came to live with her and her new spouse. Kourtney (who was born 1979) was 12 at the time, Kim (1980) was 11, Khloé (1984) was 7, and Rob (1987) was 4.
Before Caitlyn underwent her surgery though, she and Kris had two daughters between them. Kendall was born 1995, and Kylie was born in 1997.
When Keeping Up With The Kardashians started as a way for Kris to capitalize on Kim's rise to fame over a sex tape and a friendship with flash in the pan Paris Hilton, it was 2007. Her three daughters with Robert, and her son, were all of age that they would appear on the TV show without having to worry about child labor laws and such. So for several years, despite currently being married to Jenner and having two children with him, the only family members we ever saw on screen were those four.
Kendall reached the age of 18 in 2013, just as Kris and Caitlyn were undergoing their divorce. Kylie didn't come of age until 2015. At that point, both started to make appearance on the show, but mostly the two of them spent their time working to get into the modeling scene in New York City, in an effort to establish themselves as stand alone stars.
Kylie is now 20, and Khloé, who is the youngest of her step sisters, is 33. It's a pretty big age gap. All three of Kris' older daughters waited until they were in their late 20s-early 30s to start having kids, as is the accepted practice of middle to upper class girls of their social stature. We should note that unlike Kylie, who some immediately suggested isn't really having her own kid, but is acting at Kim and Kanye's surrogate, no one has suggested the Khloé pregnancy rumors could somehow be related to Kim. Instead it's very, "oh, isn't it great that she's finally having her own!" Elite Daily reached out to Khloé Kardashian's teams for comment on the rumored pregnancy, but did not hear back at time of publication.
Whether or not either woman is having her own, Kylie and Khloé's children will be step cousins when they are born, and part of an increasingly large brood. If only Robert could have lived to see it. Check out the entire Gen Why series and other videos on Facebook and the Bustle app across Apple TV, Roku, and Amazon Fire TV.