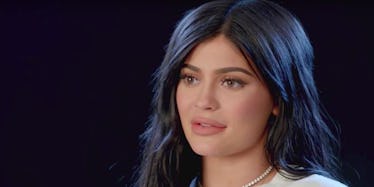 Kylie Jenner Opens Up About Breakup With Tyga On 'Life Of Kylie': "There's No Winning"
YouTube
In the trailer for the upcoming episode of Life of Kylie, Kylie Jenner and Tyga's breakup is finally addressed by Jenner herself. The trailer starts with Jenner lying in bed with Caitlyn Jenner and her best friend Jordyn Woods. Caitlyn is trying to cheer Kylie up by getting her to get up and do something instead of "moping" post-breakup. Classic parent advice. Jenner is having none of it though, saying she feels terrible and sick. Then it cuts to Jenner speaking directly to the camera detailing her relationships, making it clear that the previous parts of the video were referencing her and Tyga's breakup. Jenner says,
The hardest part about having a relationship for me is just that it's blasted all over the internet. You have to hear about other people's opinions on who you're with. It's a lot. Most of the time it's just not true. Like, you have no idea what I'm like in a relationship, [or] what kind of bond I have with somebody else. You cannot win with the internet. There's just no winning. It's just unnecessary negativity.
Of course, Jenner doesn't state Tyga's name or directly reference him, but it's pretty clear she's talking about him, considering the two recently broke up after dating for several years.
Jenner's been growing up in front of the cameras since Keeping Up With The Kardashians first aired in 2007 (yes, the Kardashians have been famous for 10 years now), so you can't really blame her for not being completely OK with being in the spotlight so much and being such a hot topic of conversation. Granted she does do her own work to keep herself in the spotlight, but she was kind of thrust into it as a kid, so it makes sense that she made a career out of it.
She added, "I feel like I'm in a relationship with the world sometimes." The video also reveals that Kylie has a pet chicken that lives just outside her bedroom, which is amazing to learn. Caitlyn goes out into the backyard and brings it inside in the hopes of it helping cheer her youngest daughter up, but Kylie doesn't want to "bond" with her chicken like Caitlyn suggests.
Based on this trailer, it's possible we'll be hearing a lot more about Kylie and Tyga's breakup. You can catch the new episode of Life of Kylie at 9 p.m. ET, this Sunday, Aug. 20, on E!.