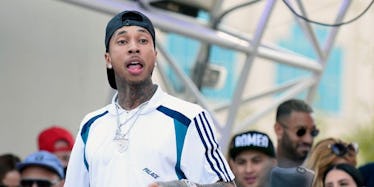 Tyga Says He Didn't "Lose" Kylie Jenner To Travis Scott: "It Ain't A Losing Thing"
Bryan Steffy/Getty Images for DAYLIGHT Beach Club
Hi. My name is Jamie, and I have something to say: I think Tyga is a mature lad who is handling his breakup with mega-celebrity Kylie Jenner really well, despite the fact it could go a million and one terrible ways for him, respectively.
That is all.
Tyga recently visited Power 105.1 The Breakfast Club and talked, in length may I just say, about his feelings on breaking up with Kylie Jenner and her new relationship with Travis Scott. His words are, IDK, wise? Hopeful? Not full of totally-unearned-but-still-very-popular celebrity entitlement?
I dig it.
To begin, he wants to make one thing clear. He didn't "lose" Kylie to Travis. They simply broke up.
I mean, we started off as friends, and then we got into a relationship. It ain't a losing thing. When you make a decision to not be in a relationship with somebody, you make that decision, you split ways.
Well, that sounds reasonable.
He continued,
I have love for her, but I'm not in love no more... When you're with anybody that first year, it's magic and then after that you start realizing a bunch of s--t. I think the main thing was a lot of people—a lot of outside influences—and... she's younger than me and she's dealing with perception. I'm older so I can deal with perception. But for her, growing up how she grew up, image and perception was everything.
Wait a minute, you mean you understand that there were outside pressures and forces beyond Kylie's control that maybe influenced her behavior and attitudes towards other human beings in general? And, while you totally get that about her, you made the choice that you didn't want to live that way, so you did the right thing and called it like it was, Tyga?
Hm. Sounds pretty fair.
OK, Tyga. But what about her new beau, Travis Scott? SURELY you must have some good gossip on the guy.
T admitted,
I don't feel no type of way. Me and her had been broken up for like seven months. He's not in the wrong. I don't have no hard feelings.
BUT HOW AM I SUPPOSED TO GET MY DRAMA IF YOU'RE GOING TO BE SO AMICABLE, TYGA?!
Oh. I know. Let's talk about Chyna.
Tyga's ex and baby's mama Blac Chyna famously partnered up with Kylie's brother, Rob Kardashian, and recently... well... sh*t hit the fan. Tyga said,
Chyna just got a different mentality. She really is a good person, but she's been through a lot in her life, and she really didn't have people to help guide her…He's coming from a whole different world. He don't know how she moves and how she thinks. When you're in love and when you don't care what nobody else thinks, love like blinds you. I told him, but I'm not going to intervene in what they got going on. That's not my business. That's their relationship.
What a well-rounded, confident, secure, and supportive person you are, Tyga.
Are you, like, single or whatever?
Call me.