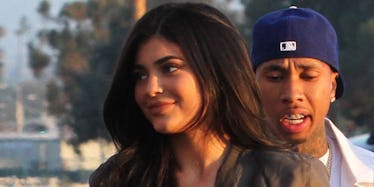 This Tiny Detail In Kylie Jenner's Snapchat May Mean She And Tyga Broke Up
REX/Shutterstock
After three years together, it looks like it might be over for Kylie Jenner and Tyga.
OK well, nobody knows for sure if they've actually broken up, but a quick glance at Kylie's social media suuure makes it look like they have!
Anyone who follows Kylie on Snapchat and Instagram knows she posts at least 10 times a day, and a lot of the pics she puts up include her longtime boyfriend Tyga.
That's why fans started getting a bit suspicious recently when the rapper just totally disappeared from her social media.
E! Online pointed out the last time Tyga was in one of Kylie's snaps was almost a month ago, and the two haven't been seen in public together in nearly as long.
So we were already wondering if something was up, but one of Kylie's latest snaps seems to confirm the breakup.
On Wednesday night, Kylie posted a pic with her BFF Jordyn Woods at dinner. It seems like just another friendly snap at first glance, but take a closer look at Kylie's left hand.
Yep, no ring! Kylie has almost always been seen rocking the huge diamond ring Tyga gave her last year, so her not wearing it now is pretty telling.
Last September, she revealed on her Snapchat that it was a promise ring Tyga had given her to show his devotion, and the possibility of an engagement in the near future.
The no-ring snap also comes just hours after Tyga's ex Blac Chyna laid into the rapper on Snapchat, accusing him of not paying child support for their son, King Cairo, and calling him a number of slurs.
Some fans are also speculating Kylie's lack of response or defense of her boyfriend is another sign they've broken up.
Though Kylie might be drifting apart from Tyga, it sounds like another Kardashian-Jenner is getting closer with him. TMZ is now reporting Chyna's current on-again-off-again boyfriend Rob Kardashian is actually siding with Tyga in their spat, and even helped instigate the fight!
Sooo... Kylie and Blac are mad at Tyga, and Tyga and Rob are mad at Blac, and I'm just confused. I think all four of these people seriously need some time apart from one another.