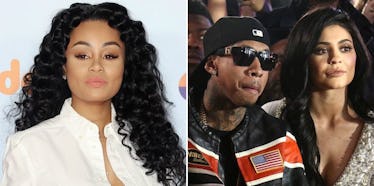 Blac Chyna Calls Out Tyga On Snapchat In Intense Rant: 'Go Tell Kylie'
REX/Shutterstock
It's been a minute since Blac Chyna's been in the news now that her reality series is on hiatus, which means she was well overdue to stir up some drama.
And, true to form, Chyna did not disappoint when she finally delivered said drama.
In the early hours of Wednesday morning, the 28-year-old reality star went on a vicious Snapchat tirade, dragging her ex, Tyga, that seemed to have something to do with money and their son, King Cairo.
And this time, she's also dragging Tyga's girlfriend, Kylie Jenner, into it.
(Warning: These Snapchats texts have strong language, including slurs.)
It started with Blac Chyna accusing Tyga and a mystery man of "kicking her out" and "wanting to see her fail."
According to Chyna, Tyga has given her no child support for King Cairo.
Then she writes about something confusing regarding Tyga telling "her business about King"?
Maybe this is a rich people thing.
Chyna tells Tyga to "go tell Kylie and Rob."
So... are she and Rob not together then?
She calls Tyga a bitch, for good measure.
And she concludes by sharing the address of her own Lashed Salon.
Trust Chyna to turn the whole thing into a self-promotion at the end.
There's been no response yet from Tyga or Kylie, but it seems likely that this won't help the fragile peace the Kardashians had made with Chyna and Rob recently.
So yeah, even though it's not entirely clear what's going on, it is clear that it is dramatic AF.
Chyna and her former fiancé, Rob Kardashian, reportedly called off their engagement, but then almost immediately got back together a few weeks ago. At this point, I would classify the status of their relationship as "shit show."
On top of that, just last week, Chyna told Cosmopolitan South Africa that she didn't want any beef with her Tyga or her possible future sister-in-law, Kylie.
Chyna said,
It's important to me and Tyga not to have negative energy. Kids breathe energy.
... Right. So how's that working out for ya, Chyna?
Citations: Blac Chyna Drags Tyga on Snapchat at 4 in the Morning: 'Ur a B*tch' (Complex)