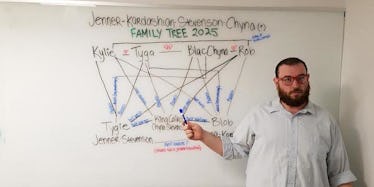 Here's The Crazy Kardashian Family Tree Now That Rob Is Engaged To Blac Chyna
Elite Daily
The Jenner-Kardashian-Stevenson-Chyna(?) family tree is "Game of Thrones"-level effed up.
Rob Kardashian and Blac Chyna kind of got engaged last night, we think. It's unclear. We're really only going off their Instagram accounts, so this may be an elaborate post-April Fools' Day prank for all we know.
Is Blac Chyna calling her parents with her money phone to let them know she got engaged?
I honestly hope they did get engaged. I love weddings, and I happen to be a big fan of them as a couple. She's been good for Rob, and it's been too many years since we've had full-on Kardashian wedding pictures to look at.
But, there is one small problem with their marriage that needs to be addressed.
If Blac Chyna and Rob go through with the nuptials and Kylie ends up having a baby with Tyga (MARK MY WORDS! THEY WILL! IF THEY DON'T END UP TOGETHER THEN LOVE IS DEAD), the shared family tree becomes BEYOND f*cked up.
Prepare to keep up with the Jenner-Kardashian-Stevenson-Chyna(?)s!
This is super confusing; I fully understand that. Don't worry, though, you're in luck. Professor Eitan with his PHD in Hollywood Family Lineage is here to help.
Class is in session.
Here are five things you need to know before we get started:
1) Rob and Kylie are half-siblings through Kris Jenner.
2) Tyga and Blac Chyna have a kid whose real actual 100 percent given not-fake name is King Cairo.
3) For the sake of chart, I assumed Kylie and Tyga would name their kid "Tygie."
4) In that same vein, I assumed Blac Chyna and Rob would name their kid "Blob."
5) Tyga's last name is Stevenson. Who knew?
King Cairo
Technically speaking, Rob now becomes the stepfather to King Cairo who is the son of his wife's ex. King Cairo is also now a stepbrother to Tygie, making Kylie both his stepmother and aunt.
Blob Chyna-Kardashian
Tyga would become the uncle through marriage of Blob, who is the son of Tyga's ex and his brother in-law. Blob is also the nephew of Kylie and the half-sibling/quarter-cousin(?) of King Cairo.
Tygie Jenner-Stevenson
Blac Chyna and Rob become Tygie's aunt and uncle, making a family reunion the weirdest thing imaginable. Tygie is also the half-sibling/quarter-cousin (?) of King Cairo. This also makes her half-cousins with Blob as they both share Kris' bloodline.
Don't even get me started on what this all makes Saint, North, Penelope, Reign and Mason.
CLASS DISMISSED!