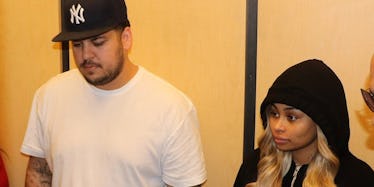 Rob Kardashian And Blac Chyna Are Back Together And Their Neighbors Are Pissed
REX/Shutterstock
This roller coaster will never stop rolling, regardless of how many mysterious deaths it causes.
OK, so Rob Kardashian and Black Chyna's relationship has caused zero mysterious deaths so far (THAT WE KNOW OF), but the couple reunited and their neighbors are not having it.
Rob moved back into Chyna's San Fernando home last week, TMZ reports, though law enforcement sources told the site police visited the gated community on Tuesday and were already inundated with complaints from residents regarding the couple.
Neighbors allegedly told the cops Rob and Chyna's visitors failed to use the front gate, opting to scale the wall and avoid security.
Community members then went on to call said visitors "thugs" and "riffraff" in an effort to keep insults with a history of problematic racial connotations in circulation.
They made sure to mention the neighborhood is full of "affluent people" concerned with how Rob and Chyna's presence will affect the property value.
Residents claimed Rob parks his car on the front lawn not out of admiration for the band Lit, but because Chyna's cars take up all the designated parking space her home offers.
Noise, neighbors said, is also a major issue at all hours.
Police told the neighbors to take their issues to the homeowner's association because they are police, and there are unsolved murders dating back decades. Noise complaints just aren't their priority right now.
The couple has been on-and-off since they started dating just over a year ago, with their worst breakup occurring over the holidays.
Just before Christmas, Blac Chyna packed up her things and took her son, King Cairo, and the couple's newborn daughter, Dream Kardashian, far away (or medium-far away, who knows) from her and Rob's problematic relationship.
Rob shared clips of the empty rooms of his home with Snapchat followers, telling them,
I got the Christmas tree all set up for Chyna and the baby, but they left me… So, I get home and Chyna took the baby, took the whole nursery we built… and she just left me alone and took the baby… We also built a room for King, but she took everything for King's room as well… But, yeah, I'm pretty upset and I'm pretty sad because it's about to be Christmas and I wanna be with my baby.
The most shocking part of this whole ordeal is that Rob's words weren't used for Emma Stone's dramatic monologue at the end of "La La Land" instead of some boring story about Paris.
This is how you win a Best Picture Oscar, Damien Chazelle.
Citations: ROB AND BLAC CHYNA Back Together NEIGHBORS ARE PISSED (TMZ)