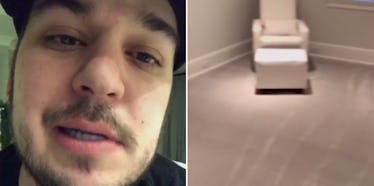 Rob K Says Blac Chyna Left Him And Took Baby Dream In Emotional Snapchats
Snapchat
Deep breaths, OK? REMEMBER YOUR BREATHING EXERCISES.
Things are looking grim for Rob Kardashian and Blac Chyna right now, but surely there's some logical explanation for this massive yacht explosion of a weekend they're having.
The pair have experienced their fair share of falling outs, but it seemed, for a brief, euphoric moment, as though the birth of baby Dream Kardashian had brought peace to their relationship.
Now, Rob and Chyna may be finished for good (feel free to listen to the "Law & Order: SVU" theme right now, as the level of pure DAH-RAH-MAH calls for it).
1. Chyna's Instagram was hacked on Saturday.
In a video on Snapchat, the 28-year-old confirmed her Insta had been hacked by someone the reality star considered "really, really, really, really, really mad."
She told followers,
Just to let y'all know that's not me on my IG page, that's somebody that hacked me.
Chy listed a new IG handle, _blacchynala, and encouraged fans to "follow [her] back."
Though the mother of two has since deleted the hacker's posts on her original Instagram, several incriminating texts between Chyna and friends were posted for fans to see.
Initially, the hacker posted a note seemingly written by Chyna herself, promising fans,
I'm about to post all of my direct messages on IG with all the guys I was talking to. I am not with Rob. I left him and took the baby and did not even let him know. Stay tuned for screen shots and messages. I am sorry Rob.
When Chyna revealed she'd been hacked and shared her new account with fans, the hacker proceeded to post text conversations between fellow stars like Jayden Smith and Young Thug to her original account.
While none of the texts proved Chyna had been unfaithful to Rob, one convo between Chyna and bestie Treasure yielded harsh words for the Kardashian son.
According to Mail Online, Chy called Rob "lazy, fat and insecure," insisting she'd "give rob 1 year to get it together or [she's] gone."
Treasure reportedly advised Chyna to "stack her money," reminding the former dancer, "Kris [Jenner] will make sure y'all stable always."
2. Chyna left Rob and took the kids.
In a series of clips on his Snapchat, Rob showed fans daughter Dream's empty nursery and stepson King's empty bedroom.
He said,
I got the Christmas tree all set up for Chyna and the baby, but they left me... So, I get home and Chyna took the baby, took the whole nursery we built... and she just left me alone and took the baby... We also built a room for King, but she took everything for King's room as well... But, yeah, I'm pretty upset and I'm pretty sad because it's about to be Christmas and I wanna be with my baby.
3. Rob and Chyna's baby special airs Sunday night.
For those who believe there's no such thing as a Koincidence, this well-timed drama could be a Klassic Krispiracy (kan't stop, kwon't stop) to publicize the couple's relationship and guarantee viewership for the special.
4. She got bangs.
Blac Chyna got bangs.
Whether Chyna has actually walked out on Rob or the pair are in on the scheme together, pretty much everyone can agree there's nothing more shocking or scandalous than bangs.
Citations: Blac Chyna's Instagram hacked: The explosive leaked messages about 'lazy and fat' Rob, making money from the Kardashian name and abusing ex Tyga Read more: http://www.dailymail.co.uk/tvshowbiz/article-4044860/Blac-Chyna-s-Instagram-hacked-explosive-leaked-messages-lazy-fat-Rob-making-money-Kardashian-abusing-ex-Tyga.html#ixzz4TCmybqbo Follow us: @MailOnline on Twitter | DailyMail on Facebook (Mail Online)