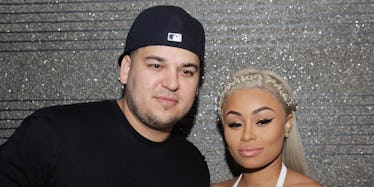 Blac Chyna And Rob Kardashian Welcome Baby Girl And Her Name Is Perfect
REX/Shutterstock
SHE'S HEREEEE!
Blac Chyna and Rob Kardashian have officially welcomed their baby girl into the world! CONGRATS, YOU TWO!
The couple made their way to Los Angeles' Cedars-Sinai Medical Center on Thursday, November 10 around 6:40 am. Damn, I hope they slept well because that's early AF.
According to E! News, Blac Chyna arrived with Rob Kardashian and her mother, Tokyo Toni. A source says Rob looked "giddy excited" while escorting his fiancée into the hospital.
ROB'S SO READY TO BE A DADDY!
Kris Jenner and Corey Gamble joined the family, too, so it was one big happy gathering.
Blac Chyna and Rob Kardashian's baby girl arrived around 9:18 am PT, weighing 7 pounds and 5 ounces. Ugh, I wanna see her little face already!
A source told E! News,
She is gorgeous and has tons of hair!
LEMME SEE THAT FREAKING FACE!
NOW, TIME FOR THE BIG REVEAL. Are you ready to know the name of Rob and Chyna's baby?
Are you sure?
OKKKKK! Her name is Dream Renee. DREAM RENEE KARDASHIAN.
Just saying her name is making me sleepy! How cute is that, though? "Renee" is also Chyna's middle name.
I hope King Cairo is ready to be a big bro to little Dream. He must be so excited.
I mean, Blac Chyna's mother is basically losing her shit. She immediately posted an Instagram of a Chymoji face with the caption,
All praises to God!!!!!!!
THIS GRANDMA IS PUMPED! SHE'S READY FOR HER GRAND BABY!
Apparently Chyna brought two huge Louis Vuitton bags filled with leopard print blankets so she can welcome her baby into the world with style.
Cool, Dream Kardashian is only like 20 minutes old and more fashionable than I'll ever be.
Welcome to the world, Dream! You are the new beacon of hope for this country.
Haha, just kidding. Sort of.
Citations: Blac Chyna Rob Kardashian Welcomed Baby Girl (E! News)