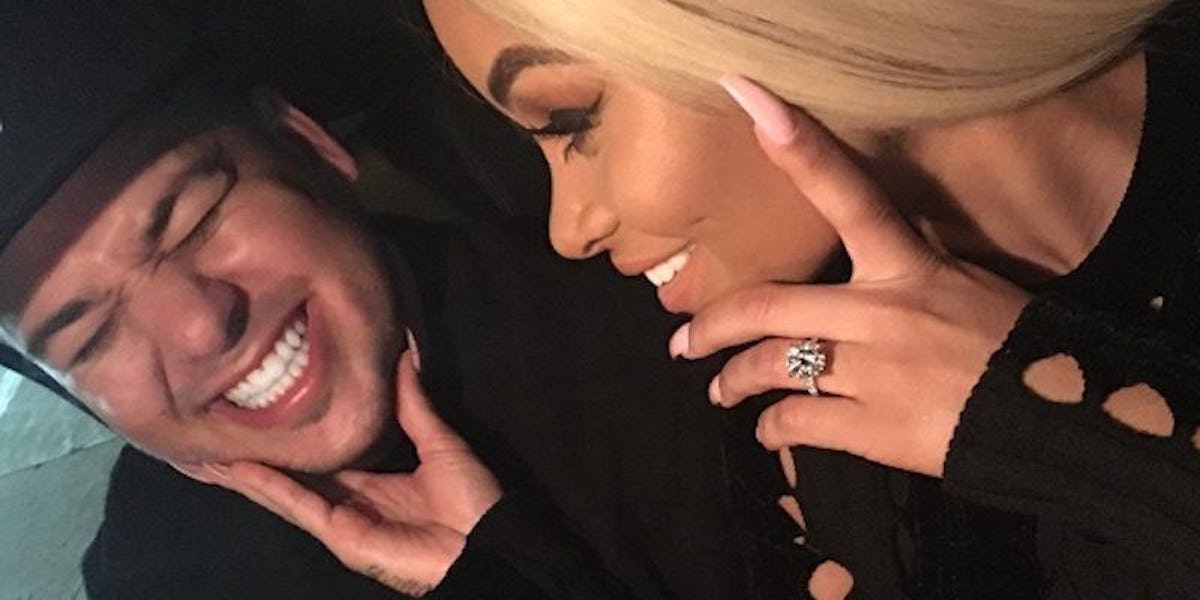 Rob Kardashian Snapchats Blac Chyna And Dream, Proves Breakup Is Over
Instagram
"Love is dead," they said. "Nothing good survived 2016," they said.
Well, "they," I guess you haven't been keeping up with the lowest step on Kris Jenner's breathtakingly gorgeous foyer staircase because Rob Kardashian is officially back with his baby mama, Blac Chyna.
Less than a week ago (super ironically on the same night their baby special was airing on E!), Rob posted a series of ~effortlessly dramatic~ Snapchats showing his empty home and explaining how Chyna fled the house and took baby Dream with her.
He wept. We wept. Kris Jenner wept watching the poor execution of her masterful, made-for-TV plot unfold.
However, four short days later, a source revealed the couple was back together, although America remained skeptical.
Today, on Christmas Eve Day, the world can collectively let out a sigh of relief because Rob posted two Snapchats with Blac Chyna and baby Dream.
Kiss that skepticism goodbye, peasants! Hug your neighbor, kiss your doorman, shout it from the rooftops! LOVE. IS. ALIVE.
While Chyna's onesie pajama suit may not be Balmain, the family of three seems rich in love. Rob even threw a four-leaf clover emoji on his Snapchat to presumably represent how lucky he feels to have Chyna and his daughter back in his life.
Based on all the Christmas movies I've ever seen, THIS is what Christmas is all about.
Rob Kardashian and Blac Chyna, regardless of the fact they have every imaginable odd stacked against them ("odd" is code for Kim, Kourtney, Khloé, Kendall, Kylie and Kris), have put aside their differences and reunited because of their pure, unwavering love ("pure, unwavering love" is code for the blood oath they probably signed with Ryan Seacrest).
If you are still unsure how you're supposed to react to this fantastic news, please refer to the gifs below.
We are all thrilled for the happy, clearly stable couple! Happy holidays, everyone!