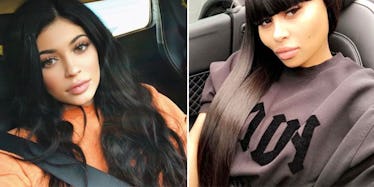 Blac Chyna Opens Up About Kylie Jenner And Her Relationship With Rob Kardashian
Instagram
Seriously, guys: This whole Rob Kardashian and Blac Chyna relationship – IS IT EVEN A RELATIONSHIP? – is making my head hurt.
As you know, it was Rob Kardashian's 30th birthday yesterday, and the entire family posted on Instagram to celebrate. Kris Jenner and Khloé Kardashian posted the sweetest birthday montages, and they had a magical birthday party for him, complete with a private screening of "Beauty And The Beast."
ADORABLE.
But Blac Chyna gave him the shittiest birthday greeting of all... kind of like the one you give the random you met once at a party.
HBD, indeed.
In case you missed all the drama – and TBH, nobody can blame you – the pair have called off their engagement and are embroiled in a crazy custody battle, according to People.
Rob wants joint custody of their daughter, Dream, while Blac Chyna wants full custody, therefore only giving Rob visitation rights.
But APPARENTLY now they're back together. That sure escalated quickly, huh?
Blac Chyna is on the cover of Cosmopolitan South Africa this month, and she FINALLY gave us some more deets into her relationship with Rob. She said,
I feel like every person who's in a long-term relationship, or who is committed to their person, goes through ups and downs. Everything isn't always going to be peaches and cream. If it is, then it's fake. I'm in it for the long haul, so I feel like my advice [for anyone in a similar situation] is therapy, know each other's family, calling each other's moms.
She continued,
I feel like everything isn't going to be perfect, but I know we love each other and we're fighting for each other, and the people we surround ourselves with are rooting for us. It makes everything much easier.
She also talked about the relationship she has with Rob's half sister, Kylie Jenner.
Chyna has a son with her ex-boyfriend and Kylie's CURRENT boyfriend, Tyga... which would naturally make the situation a little awkward.
It was kind of refreshing because she didn't try to pretend things weren't kinda weird. Instead, she said,
It's important to me and Tyga not to have negative energy. Kids breathe energy.
All this is super great, Chyna. But can you PLEASE explain what that damn birthday post was about, then?
Citations: E!