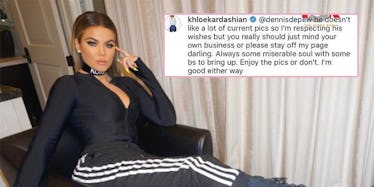 Khloé Kardashian Slams 'Miserable Soul' Who Commented On Her Instagram Pic
Instagram
Damn. I wouldn't want to piss off Khloé Kardashian.
For her brother Rob's 30th birthday yesterday, the reality star posted an adorable little montage of pictures and videos on Instagram that shows just how strong their relationship really is.
It included some never before seen footage from "Keeping Up with the Kardashians" of Rob looking just goofy AF.
She also put in some pics of Rob as a baby and teenager, as well as some SERIOUS throwbacks to their younger years, when the show had just started filming.
TOTALLY CUTE, RIGHT? The most I get from my sister is a half-hearted Facebook post.
But OF COURSE, internet trolls exist everywhere, and one by the name of "dennisdepew" decided he wasn't a fan of the photo montage.
But Khloe had some CHOICE WORDS for him.
She said,
He [Rob] doesn't like a lot of current pics so I'm requesting his wishes but you really should just mind your own business or please stay off my page darling. Always some miserable soul with some bs to bring up. Enjoy the pics or don't. I'm good either way.
YIKES.
Even though the troll's comment has since been deleted  – and TBH, I would too after getting a response like that – it's assumed the troll was making judgments on the fact that Khloé hadn't posted any current pictures of Rob... and presumably saying she was posting pictures where Rob looked a lot thinner.
Um. FIRST OF ALL, give the guy a damn break.
He's got a lot on his plate, with his whole on-again, off-again relationship with Blac Chyna and a slew of health issues. If he doesn't like his current pics, WHY TF would Khloé upset him more by posting them?
You tell 'em Khloé. The girl has dealt with enough body shamers in her life to know just how to respond perfectly.
SO MUCH SHADE. I LOVE IT.