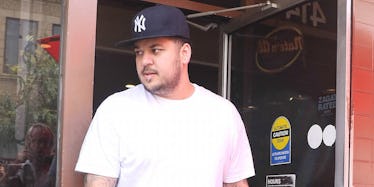 Rob Kardashian Rushed To Emergency Room After Going Into 'Medical Distress'
REX/Shutterstock
The final week of an already trying 2016 took a bleak turn for the Kardashian family on Wednesday night when Blac Chyna, Kris Jenner and Corey Gamble rushed to an emergency room following Rob Kardashian's episode of "medical distress."
According to TMZ, the reality stars arrived at the ER near their Hidden Hills homes at 9:45 pm, though Rob checked himself in earlier in the evening.
Rob and Chyna have been living in separate homes since she packed up the kids, their belongings and all the Eggos in the freezer the weekend of December 18, potentially explaining her delayed arrival to the hospital.
When he initially discovered Chyna had taken Dream, Rob shared footage of his daughter's empty bedroom with his Snapchat followers, telling them,
I got the Christmas tree all set up for Chyna and the baby, but they left me… So, I get home and Chyna took the baby, took the whole nursery we built… and she just left me alone and took the baby… We also built a room for King, but she took everything for King's room as well… But, yeah, I'm pretty upset and I'm pretty sad because it's about to be Christmas and I wanna be with my baby.
Though Rob's emergency could be of a psychological nature, his past struggle with diabetes has also been documented on "Keeping Up with the Kardashians" and "Rob & Chyna."
Back in October -- prior to the November 10 birth of daughter Dream -- Rob revealed on "Rob & Chyna" he was officially "completely free of diabetes," leaving fans and followers to wonder whether his status has changed in the wake of Chyna's departure and the onset of the holiday season.
Though the 29-year-old has faced issues concerning his mental and emotional well-being in the past, TMZ insists current reports claiming Rob has suffered a full-scale mental breakdown are untrue.
Citations: BLAC CHYNA & KRIS JENNER RUSH TO HOSPITAL FOR ROB (TMZ)