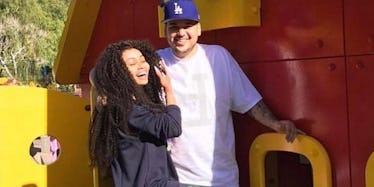 Blac Chyna Gave Rob Kardashian The Worst Shoutout For His 30th Birthday
Instagram
Blac Chyna is proof that even when you're in a huge fight with your boyfriend on his birthday, you still have to at least throw an "HBD" on his Facebook wall or something.
Rob Kardashian and Blac Chyna are reportedly in the middle of a nasty custody battle over their daughter Dream Kardashian, but she still wished him a happy birthday on Instagram... although it's hard not to read a bit of passive aggression in her post.
Though Chyna posted a gorgeous photo of herself and Rob laughing on a playground, her actual birthday wish was notably terse.
She simply wrote, "Happy Birthday," and tagged her on-again-off-again fiancé. That's the same message I write on the Facebook walls of people from high school I never talk to anymore. Hmmm...
In case you aren't up to date on the crazy stuff going on between Rob Kardashian and Blac Chyna (who can blame you... it's honestly exhausting), the couple have apparently canceled their marriage plans recently and are now arguing over who will get to take care of Dream, according to People.
Rob reportedly wants dual custody, but Chyna is seeking sole custody with visitation rights for Rob.
With all that legal drama reportedly going on, it's easy to see why Chyna didn't want to gush about Rob in a lengthy birthday post.
Her short birthday message really stands out when you compare it to the things Rob's famous family posted on his big day.
His mom, Kris Jenner, posted a lengthy and super sweet message to Rob about how blessed she is to call him her son, and shared an adorable photo collage of Rob throughout the years alongside it.
True to how close their relationship is portrayed on "Keeping Up with the Kardashians," Rob's sister Khloé Kardashian had probably the most loving birthday post of all.
She shared a bunch of photos, and wrote about how funny her brother is and the great heart that he has.
Rather than sticking to Instagram, Kim Kardashian broke out her HTML skills and dedicated a post on her personal website to her little brother for his birthday, sharing old track and basketball photos of Rob.
Kourtney uploaded a sweet picture of Rob kissing her son Mason Disick a few years back.
And Rob's half-sister Kylie Jenner posted an adorable throwback photo of herself and Rob hugging as young children, calling him her "twin soul" in her message.
See, Chyna: You really could have done a lot better... if you wanted to, that is.
Let's just hope things between Rob Kardashian and Blac Chyna are more stable by his next birthday.