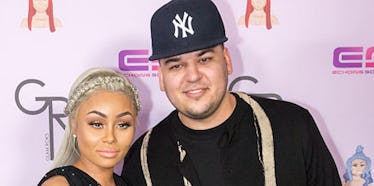 Rob Kardashian Claims Blac Chyna Cheated On Him, Posts Naked Photos Of Her On His IG
Greg Doherty/Getty Images
Stop what you are doing right now and listen to me very closely. What I am about to tell you is not OK, under any circumstances. Not under normal circumstances, celebrity circumstances, or even the wild story of Rob Kardashian and Blac Chyna circumstances.
Today on July 5, Rob Kardashian began spinning out of control and posted a series of naked photos of ex Blac Chyna on his Instagram.
This is not OK.
Elite Daily reached out to Kardashian and Chyna's team for comment, but did not hear back by time of publication.
Kardashian fans and Blac Chyna followers will be listening closely to the details, wondering things like – Why? What happened? And, unfortunately, what did she do that made him do it?
Here is the number one thing readers must take away from this article: Despite whatever went down between Rob and Chyna, it is never, ever OK to exploit a woman by sharing private photos of her body.
Ever.
No, seriously.
Nothing makes it OK.
Fans will find that Kardashian was triggered by a video Chyna supposedly sent him on the Fourth of July in which she is seen kissing another man. They will also learn from Rob's Instagram feed that, according to Rob, Chyna has repeatedly cheated on him, and seemingly uses him for endless amounts of money.
While this all might be true, it is clear that Rob is on a mission to destroy her. Rob not only slut shames Chyna by posting her naked photos and calling out the many men she allegedly has slept with, but he also uses their daughter, Dream, as leverage.
In one of his posts, Rob wrote the following,
And here comes to the drunk and on drugs Chyna. More receipts to come of all the drugs that were dropped off to her house yesterday including 100 bottles of Moët Rose she asked me to get her. U will never see Dream again unless u stop the alcohol and drugs and cocaine and X and E. lol. That's called a party pack...when was the last time u realized your daughter been with me instead of that crazy house that u bring men in and out. I never been this disrespected in my life by a woman. A woman I just paid 16K rent and Ferrari I just bought and lambo and 400K in Jewelry. Damn
Unfortunately, we can only assume this is the beginning of a serious nightmare for the two of them.
Rob, stop.