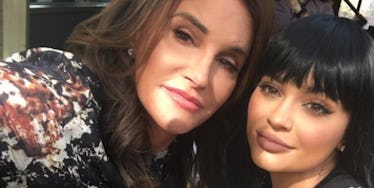 Caitlyn Jenner Is Apparently "Worried" About Kylie Jenner's Reported Pregnancy
Instagram
It's been the pregnancy heard around the world. King Kylie is reportedly expecting a baby, and the last time the world felt this much anticipation waiting for confirmation on something, Donald Trump became president -- so yeah. THINGS ARE TENSE. Caitlyn Jenner's response to Kylie Jenner's pregnancy is nothing if not ambiguous, and has us all raising our hands with more questions.
News broke on Friday, Sept 22. by People magazine that Kylie is allegedly expecting a baby girl with her boyfriend, Travis Scott. Elite Daily reached out to Jenner's team for confirmation, but did not hear back by the time of publication. Usually, when a rumor this big circulates about one of the Kardashians, fans can expect some sort of clarification, confirmation, or denial within 24 to 48 hours. Not this time. It's now Wednesday, Sept. 27 and we still don't have a clear thumbs up from any family member. On her part, Kris Jenner remained tight-lipped in her initial statement. In an interview with The Cut the morning after the rumor hit the public, she said,
I just woke up this morning. She's not confirmed anything. I think it's kind of wild that everyone is just assuming that that's just happening.
Honestly, Kris. WTF.
But, don't worry. We always have Caitlyn here to stir Kris' pot. A rep for Caitlyn recently told The Sun that she found out about the pregnancy "some time ago," and we can practically feel Kris' eye-roll from here. Now, a source is telling Us Magazine that while Caitlin is excited for Kylie, she is nervous about timing.
The source said,
Caitlyn is excited for Kylie but is also worried and thinks she is too young to move forward with such a big life decision like this.
Right, right, right. Unanimous agreement from everyone, etc. etc...
Both Kris and Caitlyn have come together, worrying about Kylie's mega-business, Kylie Cosmetics. The source continued,
Caitlyn is supportive of her daughter, of course, but she doesn't necessarily think this is the right time for Kylie. She has a hugely successful business and Caitlyn doesn't want to see that taken away from her.
Similarly, a separate source recently told People that Kris has similar concerns.
Kris is just trying to control what she can and make sure no one forgets Kylie is also a businesswoman. She wants to set Kylie Cosmetics up to sell.
Look... Kris, Caitlyn. It's 2017. If Kylie wants to run a multi-million dollar business, have a baby, star in her own reality TV show, and also be 20 years old, it's like... totally doable. Everyone relax.
Big sister Kim was also caught up in the response gossip when Harper's Bazaar ran a story suggesting that Kim was initially upset but the news. Specifically, the article suggested her negative reaction was because she and husband Kanye West are also due to have a baby via surrogate in the new year. Of course, Kim jumped to Twitter to shut that rumor down, as well as address the allegations of Caitlyn Jenner's comments.
She first tweeted the Harper's Bazaar article with the caption, "This sounds like fake news..." and followed up on Caitlyn.
She said,
And speaking of fake stories... The media is super shady for posting fake quotes from Caitlyn when she hasn't spoke to anyone
SO MANY DYNAMICS. SO LITTLE TIME.
Just for funsies and because it's like, why not at this point, Khloé Kardashian is reportedly also expecting her first baby with boyfriend Tristan Thompson.
Get comfortable. You're going to be in front of your computer screen and TV for a long-ass time.
Check out the entire Gen Why series and other videos on Facebook and the Bustle app across Apple TV, Roku, and Amazon Fire TV.