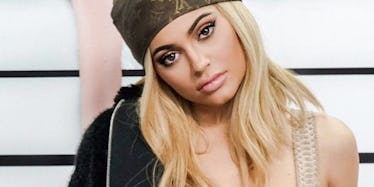 Here's What Will Happen To Kylie Cosmetics If Kylie Jenner's Pregnancy Report Is Real
YouTube
It's an overwhelming time to be a Kardashian fan. We suddenly have a lot more on our plates to worry about, which is saying a lot after the year the royal family just had. Between Kim Kardashian's secret surrogate and Kylie Jenner's reported pregnancy, you might think your plate is full. But, let me just throw another wrench in the mix and ask... what will happen to Kylie Cosmetics? Have you even been THINKING about Kylie Cosmetics?!?!
Lightning came up from the center of the earth and the skies parted when news broke that youngest sister King Kylie is reportedly preggers with boyfriend Travis Scott's baby. Obviously, it's been a frenzy ever since. After TMZ broke the story on Sept. 22, people have been filling their time considering all things Kardashian. We're wondering things like, when is the baby due? (Reportedly in February.) Is it a boy or girl? (The couple is reportedly expecting a girl.) How does Kylie feel? (According to reports, the reality star feels "excited.") What does Kris Jenner have to say? (Not much.) And now, makeup fanatics have to worry about the fate of their precious lip kits and eyeshadow palettes.
WHAT A TIME TO BE ALIVE, YA KNOW? It's like, how much more can we take?
We all know Kylie exploded into the makeup business scene when she decided to put her money where her mouth is. Literally.
Since launching her first Lip Kit, People reports that Kylie Cosmetics has now made up to 420 million dollars in the past eighteen months, a number provided by momager Kris Jenner herself to Women Wears Daily. If there is anyone who is going to ensure all that hard work doesn't go to waste, it's Kris.
A source told People that the family matriarch is reportedly prepared to step in while Kylie transitions into motherhood. The source said,
Kris is just trying to control what she can and make sure no one forgets Kylie is also a businesswoman... She wants to set Kylie Cosmetics up to sell.
Fair enough. Additionally, the company is reportedly preparing for a 25 percent sales increase this year. Which *pulls out a chalkboard, carries the one, takes a shot of whiskey, goes to bed* means Kylie will own a billion dollar business by the age of 25. Ugh, SAME, except I'm already 28 and not sure I even have health insurance.
The source continued,
Kylie has worked so hard to build that empire. Kris doesn't want to see the pregnancy affect how that is perceived. Of course, Kris will support Kylie being a mom... But she is still adjusting to the surprise news.
Please. Kris is probably upset that Kylie's reported pregnancy wasn't her idea. This mom loves a good family surprise, especially when it means her royal family tree can keep growing.
Whoever this source is, they had some great insider deets. They continued to share with the magazine that while Kylie reportedly broke up with her ex Tyga out of fear of growing up too fast, both she and Travis are reportedly excited about the baby. They also added that Kylie's family is reportedly "optimistic."
People around her are really surprised. It happened really fast, but for Kylie, being with Travis is so different than anyone else. She's so in love with him. She's really excited. ... Kylie has always been very headstrong. She's always wanted to do her own thing despite what Kris says. Of course, Kris just wants the best for her daughter and loves and supports her no matter what.
For now, all we can do is try to keep up. (Pssst, Season 14 of KUWTK premiers this Sunday, Oct. 1, on E!)
Check out the entire Gen Why series and other videos on Facebook and the Bustle app across Apple TV, Roku, and Amazon Fire TV.