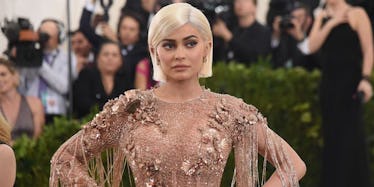 Kylie Jenner Is Reportedly Pregnant And Fans Are Wondering When She's Due
Nicholas Hunt/Getty Images
Kylie Jenner is reportedly pregnant with boyfriend Travis Scott's baby, TMZ reports. Of course, if this turns out to be true, it'll come as a surprise to just about everyone. But as we all try to wrap our heads around the news, fans are obviously left wondering, when is Kylie Jenner due?
Update: On Sunday, Feb. 4, Kylie Jenner confirmed her pregnancy in an Instagram post. She welcomed a daughter on Thursday, Feb. 1.
Earlier: Elite Daily reached out to Kylie Jenner's and Travis Scott's teams for confirmation and comment, but did not hear back by time of publication.
According to TMZ, sources close to Travis Scott broke the news about Jenner's reported pregnancy to the outlet, saying the Life of Kylie star had reportedly shared the baby news with loved ones in the last month. TMZ also reports that Scott and Jenner are having a baby girl together, though this has yet to be confirmed.
The 25-year-old rapper and purported soon-to-be-father was reportedly seen at a recent event telling people about his 20-year-old girlfriend's pregnancy and "how his life was going to change," TMZ reports. Yeah, a baby will definitely change your life, to say the least, my dude.
As if the news of Kylie Jenner's reported pregnancy isn't shocking enough as it is, a source has reportedly told Page Six that the 20-year-old reality star "has been looking pregnant for about four months" now.
Four freaking months?! And we're just finding out right now? How could you do me like this Kylie?!
To say the absolute very least, fans are beyond shook about all of this.
Even those of us who don't really keep up with the Kardashians, so to speak, are, well, having a lot of feelings about this news.
Alright, so let me try to do some math here (I'm an editor, not a mathematician, bear with me, guys). If Jenner was reportedly "looking pregnant" four months ago, that would mean her reported baby is due, like, sometime in the winter of 2018, right?
Guys, I'm apparently not as bad at math as I thought! A source has told PEOPLE that Kylie Jenner is reportedly due in February. Another source told the outlet "everyone is overjoyed for her," and that "this is the happiest she's ever been." I can't exactly say I'd have the same enthusiasm if I discovered I was pregnant at 20 years old with my not-that-long-time boyfriend, but hey, to each his own. If she's happy, I'm happy.
After all, I have to say, Jenner and Scott do make a pretty cute couple. In an episode of Life of Kylie that aired on Sunday, Aug. 20, Jenner received flowers from what appeared to be a mystery lover. She later told producers on the show that she hopes the person she's dating is "obsessed" with her.
Still, if the rumors of the 20-year-old star's reported pregnancy turn out to be true, it seems, shall we say, a bit soon into the relationship to be having a baby, no? How long have Kylie Jenner and Travis Scott been dating anyway?
It looks like rumors about a romantic relationship between Scott and Jenner first began circulating and gaining traction just a few months ago. However, a source told E! News in April that the two were simply a "fling." Still, the two lovebirds continued to be seen pretty frequently in public together, holding hands at Coachella, getting cozy with one another at an NBA game in Houston. A source even told Us Weekly back in the spring that the 25-year-old rapper was reportedly referring to his relationship with Jenner as "the real deal."
Well, with so much speculation around this, it's hard to tell what "the real deal" is about, you know, anything. But if it turns out to be true that Kylie Jenner is, indeed, pregnant, I think it's safe to say her relationship with Travis Scott will probably definitively be "the real deal."