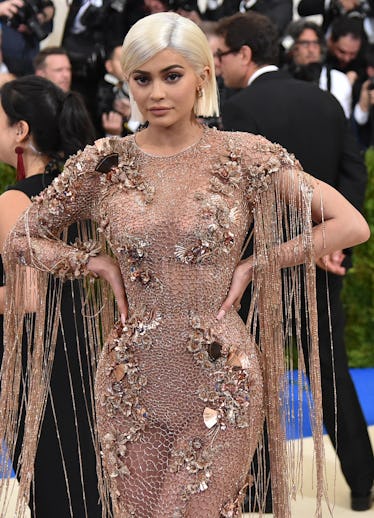 Kylie Jenner Confirmed She Gave Birth To A Baby Girl In Emotional Instagram Post & OMG
Mike Coppola/Getty Images Entertainment/Getty Images
There's been a giant question mark floating around the Kylie Jenner pregnancy rumor. Is she or isn't she? The starlet has remained curiously tight-lipped about the rumors until now. Kylie Jenner confirmed she gave birth on Feb. 1, 2018, and fans couldn't be more excited.
TMZ first broke the news there were pregnancy rumors on Friday, Sept. 22. The outlet claimed close friends of Travis Scott dished that the 20-year-old makeup mogul was pregnant with the rapper's baby. According to TMZ, Jenner had also been telling friends about the news for the past month or so. Although they could not "verify," TMZ also claimed that Jenner is having a girl.
Although Jenner and Scott have only been together since April, the two are basically attached at the hip and even permanently solidified their relationship with matching butterfly tattoos. The butterfly is a nod to Scott's popular song, "Butterfly Effect," which many fans believe is about Jenner — mostly because it's been reported that Scott's cute-coupley nickname for Jenner is Butterfly. We get it, you're adorable.
But on Feb. 4, 2018, Kylie Jenner posted an Instagram confirming she had a baby girl and has been keeping fans "in the dark."
She also shared an emotional video on YouTube confirming her pregnancy and sharing the emotional journey with fans. Jordyn Woods and a few of Kylie's other friends narrate (it seems like some messages from friends were filmed at the baby shower), Kris Jenner gives her words of wisdom, and even Travis Scott and his family make an appearance.
Jenner did give us a little teaser on Sept. 24 when she posted a picture on Instagram to celebrate the birthday of her best friend, Jordyn Woods. Always the clever one, Jenner just lifted her shirt enough to keep the curiosity alive. OF COURSE.
Kris Jenner also added to the mystery of the announcement (typical). Most of the Kardashian-Jenner clan stayed tight-lipped during the whole "is she or isn't she" debacle. The only hint of any confirmation we received was from Ryan Seacrest reading a text from Kris Jenner. On Monday, Sept. 25, Kelly Ripa and Seacrest were glued to Seacrest's cell phone anxiously awaiting a text back from Kris Jenner. Seacrest explained,
The reason we're looking at the bubbles is because there was news over the weekend that Kylie Jenner is pregnant.
The "bubbles" are the text boxes. I did not understand right away. Moving on, as Seacrest and Ripa walked onto the Live with Kelly and Ryan Stage, they noticed more texts popping up from Kris Jenner. Ripa said in true Kelly Ripa fashion,
As we were walking out on the air! Bubbles! We're still waiting. Bubbles! Bubbles!
Moments later, Kris Jenner replied to Seacrest's text. Seacrest said,
Kris says Kylie's not confirming anything. That's the news from the family this morning. Kylie is not confirming anything.
That's when Kylie's pregnancy went from rumor to "holy sh*t, she might actually be pregnant." Why all the build up and mystery? Needless to say, people had been keeping a sharp eye on Jenner's social media accounts (and the rest of the Kardashian-Jenner clan's for that matter) for confirmation and pregnancy updates. No one directly related to Jenner had tweeted, snapped, or Insta'd about the pregnancy rumors — they were obviously waiting for Kylie to make the first move.
Now that we finally know the truth, we can move on and be happy for Kylie. She runs a hugely successful cosmetic company, clothing line, and juggles about 47 other side projects — I think she has the resources to handle whatever life throws at her. Wishing you the best, Ky.