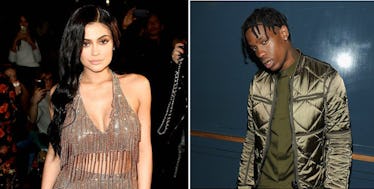 Kylie Jenner & Travis Scott Have Known Each Other For Longer Than We Thought
Nicholas Hunt/Getty Images for New York Fashion Week and Bryan Bedder/Getty Images for GQ)
Kylie Jenner is reportedly pregnant with Travis Scott's baby. (Elite Daily reached out to Kylie Jenner's and Travis Scott's teams for confirmation and comment but did not hear back by the time of publication.) "Shook" does not even come close to describing all the emotions we feel about this. Seriously, how long have these two been dating? It can't have been that long, can it? How far along is she? How did Kylie Jenner & Travis Scott meet? So many questions.
Travis Scott appears to have connections to the Kardashian/Jenner clan that go as far back as 2015, when Kendall Jenner attended Travis Scott's album party at Up&Down, a nightclub in New York City. Kendall was seen leaving another restaurant in New York City with Travis in September 2016, and Travis was even at Kendall's 21st birthday party a few months later (Travis even performed for her there! I hope it was "Pray 4 Love" because that song is a freaking jam.). Some people believed Kendall and Travis were dating, but there's more proof that they were just friends and nothing more. It's definitely possible that Kylie met Travis through Kendall, though that's pure speculation on my part.
News about Kylie and Travis beginning to get involved in a real romantic relationship started circulating a few months ago, though a source told E! news this past April that Kylie and Travis were just a "fling." "They were together a bunch at Coachella. It's a fling right now. It hasn't developed into anything yet, but they are feeling each other for sure," the source said. Kylie and Travis were, however, spotted holding hands at Coachella in April as well, which is certainly indicative that something more than just "a fling" was going on. Holding hands is pretty intimate. And throughout April, Us Weekly reported that Kylie and Travis were spotted at an NBA game in Houston and in Boston at Bentley University for Travis' concert. The two lovebirds were also seen in New York City that month, celebrating Travis' birthday at Cipriani, a swanky Italian restaurant.
It didn't take long for things to actually get serious between them, though: In May, a source told Us Weekly that the two are "the real deal." Travis was even telling his friends that things were serious, so that's how you know it was real. So real, in fact, that now Kylie is reportedly PREGNANT.
An anonymous source reportedly gave Page Six even more details about  Kylie's alleged pregnancy:
A source tells us the couple is expecting a girl. 'She has been looking pregnant for about four months,' says the source. Jenner has not been seen at public events lately and has been posting older shots on Instagram. Other pictures of her have been cropped.
Yes, a girl. Wow. That little lady is going to have the best makeup in the game.
PEOPLE has also reported on that Kylie's rumored pregnancy, with various sources saying very, very positive things about this pregnancy:
'They started telling friends a few weeks ago,' says the source. 'The family has known for quite some time. She is REALLY excited and so is Travis!' Another source close to the family tells PEOPLE: 'It is an unexpected but completely amazing turn of events that she could not be more excited or thrilled about.' 'Everyone is overjoyed for her,' says the source. 'This is the happiest she's ever been.'
Kylie's baby will join a whole line-up of famous Kardashian/Jenner babies. We know Kim is expecting a third child via a surrogate and is already mother to 21-month old Saint and 4-year-old North. There's also Dream, Rob's daughter, and Mason, Penelope, and Reign, who are all Kourtney's.
I guess if Kylie's happy, then we should all be happy. Right? This is Kylie's world after all. We're just living in it.