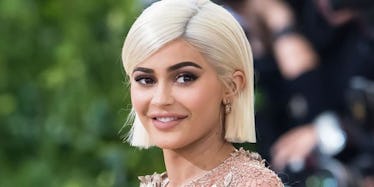 Kylie Jenner Is Reportedly Pregnant With Travis Scott's Baby & Fans Can't Handle It
Gilbert Carrasquillo/Getty Images
If you're scrolling through Twitter right now, you'll probably see many people asking the same question over and over: Is Kylie Jenner pregnant? Is our lip kit queen having a child?! Well, according to TMZ, the reality star is reportedly pregnant with Travis Scott's baby and fans are going insane. Elite Daily reached out to Kylie Jenner's and Travis Scott's teams for confirmation and comment, but did not hear back by time of publication.
Update: On Sunday, Feb. 4, Kylie Jenner confirmed her pregnancy in an Instagram post. She welcomed a daughter on Thursday, Feb. 1.
Earlier: On Sept. 22, TMZ posted an article claiming sources close to Travis Scott told the outlet the Life Of Kylie superstar is pregnant with the rapper's baby. According to TMZ, Jenner has reportedly been telling friends about the news in the last month. On top of that, TMZ says Travis Scott and Kylie Jenner are reportedly having a girl, although they "cannot verify." WTF?
At this point, Kylie Jenner nor Travis Scott have commented on the pregnancy rumors, so it's unclear if the reports are in fact true, or if this is just one big misunderstanding. Maybe he was joking? Maybe we're all just being punk'd?!
However, according to Page Six, a source reportedly said Kylie Jenner "has been looking pregnant for about four months." FOUR MONTHS? The outlet noted that Jenner has been posting old photos on Instagram lately, instead of recent ones. This could perhaps be due to the fact she wants to conceal her baby bump, if she has one. OR, you know, she was just feeling extra nostalgic one day and wanted to remind her fans how hot she looked two years ago. Either one!
Kylie Jenner and Travis Scott have been dating since April, so the couple has only been together for about five months. The two have basically been inseparable ever since and even got matching butterfly tattoos to make their relationship official. The tattoo is reportedly a nod to Scott's song "Butterfly Effect," which many fans believe is about Kylie Jenner. Although the lyrics have really nothing to do with Jenner or love or romance, Scott reportedly calls his girlfriend "Butterfly," so you get the connection. Here are the lyrics just so you TRUST ME ON THIS ONE:
For this life, I cannot change Hidden Hills, deep off in the main M&M's, sweet like candy cane Drop the top, pop it, let it bang (Pop it, pop it) For this life, I cannot change Hidden Hills, deep off in the main M&M's, sweet like candy cane Drop the top, pop it, let it bang
Deep, deep stuff. OK, I take it back, there actually is a verse that could be considered cute, kind of????
Heatin' up, baby, I'm just heatin' up / Need ya love, not a need, it is a must / Feelin' stuck, you know how to keep me up / Icy love, icy like a hockey puck
THAT'S WHAT I'M TALKING ABOUT. Cool, so now that I've distracted you with sexy Travis Scott lyrics, let's get back on track to talk about what this post is really about: Kylie Jenner's future child.
People on Twitter are losing their minds and rightfully so. It looks like no one can really believe Travis Scott and Kylie Jenner are reportedly having a child together. I MEAN, I CAN'T BELIEVE IT. CAN YOU?
LOOK AT THESE REACTIONS:
The news broke on a Friday evening, so people at work weren't too happy to have huge news thrown their way while they're trying to pack up and enjoy their weekends. COME ON, KYLIE. WE HAVE PLACES TO BE. COULDN'T YOU HAVE WAITED ANOTHER WEEK?
Not too long ago, a source revealed to Us Weekly, "Travis is telling friends that he and Kylie are the real deal." Welp, if a baby is on the way, I guess they really are!