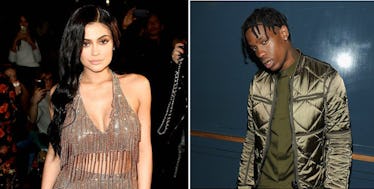 Kylie Jenner And Travis Scott Got Matching Tattoos And The Meaning Is Adorable
Nicholas Hunt/Getty Images for New York Fashion Week and Bryan Bedder/Getty Images for GQ)
You know how the old saying goes... when in love, get a tattoo. Right?
Kylie Jenner and Travis Scott recently debuted matching butterfly ankle tats on their respective Snapchats and fans' heads are exploding.
The duo debuted their tattoos on Monday with Kylie displaying hers above her ankle on her right leg and Travis mirroring her placement on his left leg.
It appears the symbolic butterfly is most likely a nod to Travis' song "Butterfly Effect," which, of course, fans speculate is about boo thang Kylie.
This is due to Scott sharing a photo of her exiting an airplane not too long ago with the caption, "Butterfly Effect."
Hm... all roads lead to love and tats.
The lyrics to Scott's song read,
Heatin' up, baby, I'm just heatin' up / Need ya love, not a need, it is a must / Feelin' stuck, you know how to keep me up / Icy love, icy like a hockey puck
Sure, was it convenient that "up" and "puck" sort of rhyme? Totally. Does that mean it must relate directly to Kylie Jenner? No.
This song could be about anyone, but we just happen to know Scott is in love with the youngest Jenner, so we'll just do the math ourselves.
This relationship comes at an exciting time for Jenner as she is about to debut her new reality TV show, Life of Kylie, which promises an up-close sneak peek into her personal life and – fingers crossed – her dating life.
In the latest trailer, Kylie admits, "I hope the person I'm dating is obsessed with me," (which, to be fair, who doesn't?) and so far, so good.
A source revealed to Us Weekly, "Travis is telling friends that he and Kylie are the real deal," despite the romance coming so hot on the heels of Kylie's long-term relationship with ex Tyga.
Regardless, we hope the new ink brings them good luck in life and love and music and lipstick and fancy cars and private jets and courtside basketball tickets and great hair, forever and ever, amen.