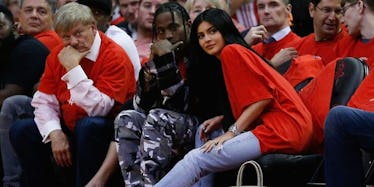 Kylie Jenner And Travis Scott Pack On The PDA In Steamy New Makeout Pics
Bob Levey/Getty Images
If Kylie Jenner has any lingering feelings over ex Tyga, she sure isn't showing it.
In fact, new photos have just been released revealing a very smitten Kylie packing on the PDA with new beau Travis Scott.
And by smitten we mean... infatuated? By PDA we mean... just straight up butt grabbing?
A rather, uh, toned down (???) looking Kylie is seen getting into or out of a car with Travis, but only after they take a minute for a few hugs, kisses and bum rubs. As one does.
The two first stepped out together about a month ago, just a few short weeks after Kylie called things off with long-term on-again off-again boyfriend Tyga.
The new couple was seen courtside at a basketball game, also revealing a little public flirtation, where one onlooker said Travis was kissing her neck.
There was also this video of Kylie and Travis hanging out in a club.
Additionally, despite what Kylie's super-fans might assume, her older sister Kim Kardashian told Andy Cohen the breakup for her little sister was "so easy."
During a game called "Plead the Fifth," when asked about Kylie and Tyga's breakup, Kim said,
You know, I was… it doesn't mean he's a bad person, at all — I just think that sometimes people… and what was great was that it was so easy, that split. There has not been any drama with her.
That's interesting, considering there was that whole Kylie's-brother-Rob-proposing-to-Tyga's-baby-mama-thing, which some people might consider drama. But not the Kardashians.
Regardless, Kylie seems happy and that's what matters to us most.
One day, all of the broken hearts left behind the Kardashian/Jenner clan should get together and write a tell-all memoir called "Keeping Up With The Ex's," complete with a forward by Kris Humphries and 10 chapters dedicated to each and every one of Scott and Kourtney's breakups.
Ah, bless the men that love these women.