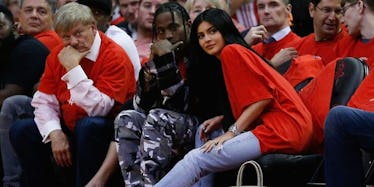 Kylie Jenner And Travis Scott Made First Public Appearance And There Are Pics
Bob Levey/Getty Images
Kylie Jenner is writing the book on how to get over an ex.
So you know when you break up with someone and you wallow at home in sweats for weeks, get drunk, download Bumble and then post pics with other guys who are really just friends you begged to let you pretend like you're hooking up with?
Yeah, well, celebs? They're just like us!
After breaking up with Tyga just a few short weeks ago, Kylie Jenner did her own version of that -- as in, she jetted off to Coachella, hosted an incredible party in sponsorship with Bumble and was spotted hanging out with a new guy in very public places.
Kylie and hip-hop artist Travis Scott were seen arriving at designer Jeremy Scott's Moschino x Candy Crush Coachella party last week. A source said,
Kylie and Travis made their way to a private table, where they were joined by friends and enjoyed the deejay. After five minutes of being in a very crowded space, Travis got up and left the table, and Kylie followed him out with her friends following close behind her.
In normal people world, that's like going to prom after breaking up with the quarterback of the football team and finding someone on the soccer team to leave with, but only when you realize enough people will see you make your exit.
But if you thought Kylie was done after Coachella, you clearly aren't keeping up.
The 19-year-old reality star and business mogul decided to make things a little more official on Tuesday night when she appeared courtside with her rumored new fling at a Houston Rockets vs. Oklahoma City Thunder NBA playoff game, where Travis performed prior to tip-off.
A source told People,
During his performance, Kylie was hiding in the Rockets' courtside club anxiously waiting for him to come back to her. Once he got back, they definitely looked like a couple, cuddled up next to each other among her friends.
Travis was seen kissing Kylie's neck, the onlooker added.
Of course, there are photos (and fan videos) -- because if you're going to move on from a very public relationship, there better be photos to prove it.
Now before you go feeling TOO bad for Tyga, remember two can play this game. Last week, he stepped out with a model and the paparazzi got more than a few shots of them.
I don't know, though. Tyga looks straight-up scared in those photos, whereas Kylie looks like hanging with her new man is the most natural thing in the world.
It should also be noted that Kendall Jenner and Travis Scott reportedly once had a "thing," which brings up all kinds of awkward questions.
A source close to Kylie revealed,
[Scott] and Kylie have also been friends for a while and they all hang out. When she and Tyga are having drama, she tries to make him jealous by hanging out with other guys.
OK, Tyga, your move.
Citations: Rockets & Sparks! Inseparable Kylie Jenner & Travis Scott 'Definitely Looked Like a Couple' at PDA-Filled NBA Game (People)