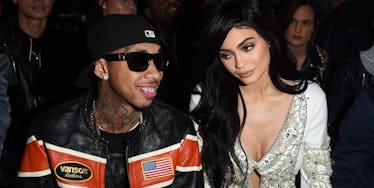 Tyga Moved Out Of Kylie Jenner's House, So This Breakup Must Be Serious
REX/Shutterstock
Tyga has reportedly moved out of Kylie Jenner's house, which could mean things are officially over.
In related news, I no longer believe in love.
Us Magazine is reporting that 10 months after Tyga was invited to live in Kylie's $6 million mansion, the 27-year-old rapper and Blac Chyna's former fiancé has packed his stuff and left that sweet, sweet, sweeeeeet living arrangement he found his way into.
RIP, this:
Though they have had their fights and even split for a little bit, Kylie and Tyga have been together since 2015.
The start of their relationship was steeped in controversy as, Tyga's ex-fiancé and mother of his son, Blac Chyna, was dating her now (ex? current? what's going on here) fiancé, Rob Kardashian.
Don't get too bummed out just yet. There is a strong chance the couple is still together... they're just giving each other a little breathing room.
For starters, Kylie is still hocking Tyga's music on her social media platforms.
She recently posted a Snapchat video of herself lip syncing a Tyga song, which would seem to imply they're still together.
Various people close to the family also seem to think this move is nothing to be overly worried about.
One source says this isn't a full breakup as much as the two of them just need a little space, saying,
They're not broken up. They're just not spending as much time together.
Another source pointed out,
They tend to take little breaks all the time and then get back together. It's definitely possible they'll work things out again.
Going on to say,
Tyga does really make Kylie happy, and when they break up it makes Kylie super sad. He's her first big love and they still speak every day.
Soooooooooo, what's the deal here?
Citations: Tyga Moves Out of Kylie Jenner's House (US Magazine)