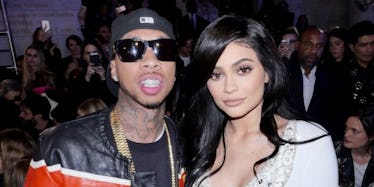 Kylie Jenner And Tyga Apparently Broke Up Again But Nobody Noticed
REX/Shutterstock
Are Kylie Jenner and Tyga a modern-day Romeo and Juliet?
OK, maybe that's a stretch, but when you consider how many times these two have broken up and gotten back together again, well, you start to really wonder about their relationship.
According to reports, the 19-year-old Jenner and 27-year-old Tyga are once again taking a break from their relationship, which is, uh, surprising to no one.
Speaking about Kylie Jenner and Tyga's on-again, off-again relationship, one source close to the two reportedly said,
They tend to take little breaks all the time and then get back together. It's definitely possible they'll work things out again.
It's "possible" they can work it out?
Who the hell wants to live like this? The frequent breakups make you wonder why these two even bother getting back together.
And more to the point, it's almost like fans know this crap is coming. After this most recent breakup, virtually no one on Twitter is even talking about Kylie and Tyga calling it quits.
According to reports, Tyga and Kylie Jenner first went public with their relationship in March of 2015.
Since then, the 27-year-old rapper has made regular appearances on "Keeping Up With the Kardashians" and become an integral part of Kylie Jenner's family.
Apparently, numerous cheating allegations have been leveled at Tyga while he's been in a relationship with Kylie Jenner, and it looks like those allegations, along with Tyga's reported money problems, are finally catching up with these former lovers.
Tyga and Jenner reportedly first broke up in November of 2015, and things only escalated when Rob Kardashian became romantically involved with Tyga's ex, Blac Chyna.
Throughout 2016, the 19-year-old and the 27-year-old were off and on in their relationship.
Following that spell, a source revealed,
Over and over again, she feels like she can't trust Tyga. There have been and continues to be too many lies.
As far as why Kylie Jenner keeps coming back to Tyga, a source reportedly told People,
[Tyga] was her first true love. That's something that she just can't walk away from entirely.
Damn. This sucks.
Citations: Kylie Jenner & Tyga Take Another Break — but 'It's Definitely Possible They'll Work Things Out Again' (People)