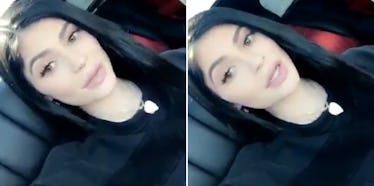 Kylie Jenner Raps Along To Tyga's New Song On Snapchat And We Have One Question
Snapchat
All right, did Kylie Jenner and Tyga break up or not? I need answers.
Because yesterday there were all these reports about how the 19-year-old reality star and 27-year-old rapper were taking a break from their icky relationship, and it gave me a lot of hope.
But today, Kylie posted Snapchats of herself rapping along to Tyga's new song with Lil Wayne, "Act Ghetto," which dropped on Monday.
(Don't worry, she lip syncs, so you don't actually have to hear Kylie Jenner rap.)
Though it's not one of the verses featured in Kylie's Snapchat video, Tyga actually does mention Kylie in "Act Ghetto" when he raps, "Gettin' checks like Kylie / Yeah, every day I do it."
So I guess you could say it's kind of their song now.
OK... so what the heck was that whole "break" thing about?
Just yesterday, People reported an inside source said the couple was in an "off again" phase of their on-again, off-again relationship.
The source said,
They tend to take little breaks all the time and then get back together. It's definitely possible they'll work things out again.
Plus, last week fans realized from Kylie's Snapchats she was no longer wearing the huge diamond ring Tyga gave her.
But rapping along to your potentially former boo's music doesn't really seem like breakup behavior. All right, well that was the shortest break I've ever witnessed.
Ugh, I knew it was too good to be true. These two will never call it quits for real, no matter how terrible their relationship is.
They first met at Kylie's 16th birthday party (gross) and have been publicly dating for a little over a year now.
Since then they have "broken up" several times, but none of those breakups have stuck. Tyga has been accused of cheating in the past, and has clearly experienced some crushing debt that Kylie generously bailed him out of.
It's with that in mind that I lovingly say to Kylie: Girl, please love yourself. Break up with this dude for real. You're so close!
Citations: Kylie Jenner & Tyga Take Another Break — but 'It's Definitely Possible They'll Work Things Out Again' (People), Kylie Jenner Supports Tyga's New Music Amid Split Rumors (E! Online)