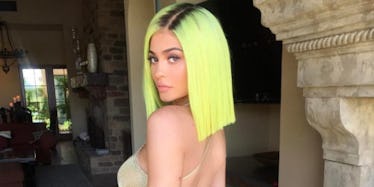 Kylie Jenner Hanging With Travis Scott Is Us Trying To Make Our Exes Jealous
Instagram
Who hasn't, after breaking up with someone, taken that obligatory Instagram picture with a random hottie to make an ex jealous?
Personally, I usually have to resort to photoshopping a random model from a Sears catalogue into my picture since no one will ever talk to me.
But if you're Kylie Jenner, all you need to do is announce to the world you're single and any guy will flock to you just to be seen with you, no photoshopping necessary.
As we all know, Kylie and Tyga are no more and now, it would appear she's moving on with hip-hop artist Travis Scott.
The two were seen arriving at designer Jeremy Scott's Moschino x Candy Crush Coachella party on Saturday at 2:45 am.
Whoa, 2:45 am? That's like the witching hour of romance.
The two went right to the VIP area. A source who saw the pair told People,
Kylie and Travis made their way to a private table, where they were joined by friends and enjoyed the deejay. After five minutes of being in a very crowded space, Travis got up and left the table, and Kylie followed him out with her friends following close behind her.
Another source close the Jenners said Kendall Jenner and Scott previously had "a thing." Uh, Kylie, what are you doing? You don't date the same guy your sister dated.
The source went on to say,
[Scott] and Kylie have also been friends for a while and they all hang out. When she and Tyga are having drama, she tries to make him jealous by hanging out with other guys.
You hear that, Tyga? You've done goofed. At least for now...
For those of you rooting for Kylie and Tyga to make it work (really? REALLY?), there's still a chance. Another source previously dished to People,
They tend to take little breaks all the time and then get back together. It's definitely possible they'll work things out again.
What's even more of a sign they might reconcile is the fact they're both at Coachella... at the same time.
Kylie and Kendall recently hosted a party at Coachella and apparently, it was a phenomenal shindig, much like my board game night would be IF PEOPLE WOULD ACTUALLY STOP BY.
Citations: Sorry, Tyga! Kylie Jenner Hits Up Coachella with Travis Scott (People)