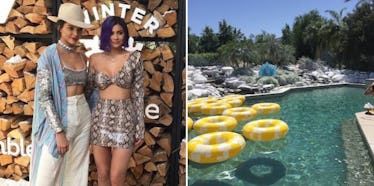 Kendall And Kylie Jenner Threw A Banger At Coachella And The Pics Are Unreal
Instagram/Elite Daily
If I told my friends I went to a party hosted by Kendall and Kylie Jenner this weekend, they'd legit just laugh in my face.
I write about the Kardashian-Jenner family like it's my job... because, well it is. But this weekend at Coachella, I was able to see them -- in person -- with my own two eyes and it was an unreal experience.
Yup, Kendall Jenner and her little sis hosted the ultimate Coachella banger and yo' girl here scored an invite. Don't ask me how or why or what because I don't know the answer. All I know is I was in the same mansion as Kendall and Kylie and I have the pics to prove it.
The sisters hosted a "Winter Bumbleland" party at a gorgeous mansion in Rancho Mirage, California. I didn't know this fun fact because I'm not famous, but apparently all the celebs hit up day parties before making their way to the festival at night.
That means all those cool Coachella Instagram pics flooding your newsfeed probably aren't even on festival grounds. Yeah, it's pretty crazy but I get it. CELEBS, haha, they're just like us.
But back to Kendall and Kylie Jenner. I pretty much got to party with them all day and this is what it was like.
We arrived at Bumbeland and were immediately overwhelmed by how gorgeous -- and ginormous -- the mansion really was. JUST LOOK AT THIS PIC, YOU GUYS. IT'S FRICKIN' HUGE!
The theme for the event was "Winter Bumbleland," meaning it was basically a winter wonderland with Bumble dating app merch chilling around.
I honestly don't even think Kylie and Kendall use Bumble, but whatever, that's beside the point.
POINT IS, CHECK OUT THESE VIEWS!!!!
Unreal, I know. Guests were able to lounge by the pool, chill in these boho backyard tents and take advantage of the fun photo opportunities.
There was a pool filled with Bumble-themed floaties and a bar serving Bumble-themed drinks. It was pretty much heaven for cold, single people.
The best part, in my opinion, happened to be this igloo dome in the middle of the backyard. In it, there was an ice bar and a game where you could build your own snowflake. BUT LIKE, THE ENTIRE THING WAS MADE OF ICE!
We got to hang out with Kendall Jenner and Hailey Baldwin while they played around with the games... and by "hang out" I mean watch them and discreetly take pics.
And oh my God, don't even get me started on the inside of the place. It was the most beautiful room I've ever seen in my life. LOOK AT THOSE COOL-ASS CHAIRS. (I also don't get out much.)
Kendall and Kylie both looked incredible, too, so that made the entire experience even more surreal. Look at how cute they are!
Sister goals.
And Kylie's BFF Jordyn Woods was there! That's how you know it was a banger.
Thanks for the awesome time, Kendall and Kylie! I feel closer to you both already... lol, JK.