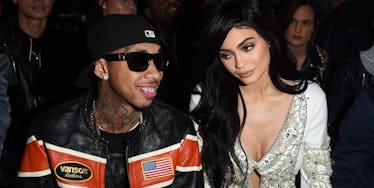 Sorry, Kylie Jenner: Tyga Is Hanging Out With A New Model And She's Gorgeous
REX/Shutterstock
Kylie Jenner may have millions of Instagram followers but Tyga was able to replace her in about... five minutes.
Poor girl.
The 27-year-old rapper was caught red-handed with a new girl and -- not gonna lie -- she's absolutely stunning.
The paps took pics of Tyga on a dinner date with a mysterious new brunette at Serafina Sunset in WeHo on Thurdsay, April 20.
The moment Tyga realized he was busted with another girl was captured on camera, and honestly his face is hilarious.
KYLIE JENNER IS GONNA BE SO, SO SAD.
But also, lmao, this pic is gold. Tyga is literally thinking, "Uhhhhhhhhh... shit."
How much money do you think he offered the photographer to burn the photos off his camera? Millions, prob.
BRO, YOU MESSED UP.
But back to this bombshell. The mystery girl has not been named yet, but she's stunning. I could get plastic surgery for years and I'd still never be as cute as this.
Also, let's talk about that outfit. High-waisted jeans and a crop top sweater?
THIS LADY IS A FASHIONISTA.
Kylie, you might have some competition.
A lot of weird stuff has happened since Kylie and Tyga broke up a few weeks ago.
Tyga moved out of Kylie's house, Kylie was in the middle of a HUGE rap battle and she also spent Coachella with hip-hop artist Travis Scott.
The two went to the VIP area together and a source told People magazine,
Kylie and Travis made their way to a private table, where they were joined by friends and enjoyed the deejay. After five minutes of being in a very crowded space, Travis got up and left the table, and Kylie followed him out with her friends following close behind her.
WOAHHH, STEAMY. WATCH OUT, TYGA. Two can play this game.
I guess it's unclear where Tyga and Kylie's relationship will go from here, but we can only hope they'll stay broken up forever.
Citations: Tyga Hanging With Brunette Girl Instead Of Tyga (TMZ)