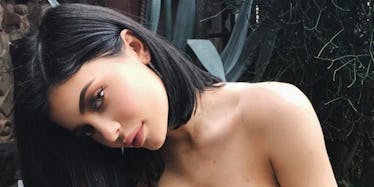 Kylie Jenner Is In The Middle Of A Huge Rap Beef And There's A Song To Prove It
The Kardashian-Jenner family is no stranger to sparking feuds in the world of hip-hop. Kim Kardashian and her husband Kanye West have been at the center of so many nasty raps that it's hard to keep track any more, but now it's the new generation's turn.
Kylie Jenner is the new muse for a pair of feuding rappers, and no, neither of them is Tyga. I guess now that it seems pretty clear Kylie and Tyga have broken up, every other rapper is fighting each other for their chance with the reality star.
And they sure aren't being coy about their Kylie obsession either... rapper 22 Savage is set to release a track called "Kylie's Daddy" next week, and TMZ just shared an explicit clip from the song. 22 Savage makes his feelings for the youngest Kardashian-Jenner very clear, rapping:
I love me some Kylie like a white girl love that molly. Tyga fall back 'cuz I'm finna be her daddy. I'm a young Savage aka Kylie's daddy.
But along with professing his love for Kylie, 22 Savage also seems to be starting some beef with his long-time rival 21 Savage (yes, I know it's super weird and confusing they have basically the same name). A couple months ago, 21 Savage professed his huge crush on Kylie. It looks like 22 Savage isn't only trying to steal 21 Savage's name...
But honestly, I really don't think Kylie is going to be paying attention to either of these dudes. For one thing, 22 Savage's song is like, reallllly creepy. For some reason, he features a 14-year-old girl singing about how she wants to become a lesbian to get with Kylie.
Yeah... definitely not the most romantic love song. And I'm sure it's only a matter of days before 21 Savage raps his reply and a whole back-and-forth is started.
I think it would be amazing if Kylie Jenner released her own diss track directed at both of these Savages. I know she's not known as a singer, but remember that song "3 Strikes" she may or may not have released in her lip kit commercial last year?
Since then, the group credited with the track, Terror Jr, hasn't revealed who their female lead singer is... and a lot of people assume it's Kylie anonymously releasing electropop tracks.
Sooo, maybe this rap feud will be the thing to finally get Kylie to come out as a singer? All I know is we need more songs like "Jam (Turn It Up)" in this world.
You can listen to a snippet of "Kylie's Daddy" here.
Citations: KYLIE JENNER LOCKED IN 'SAVAGE' RAP BEEF ... Who's Your Daddy?? (TMZ)