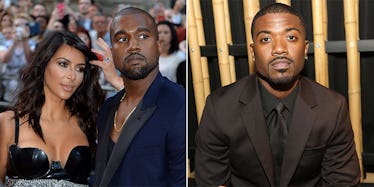 Kanye West Calls Out Kim Kardashian And Ray J On His New Album
Getty Images
Tired of hearing about Kanye West yet? Well, me too, but misery loves company, so here we go.
Your man Kanye finally, finally, finally dropped his damn album, The Life of Pablo, last night.
When we all woke up this morning, the Internet was all aflutter over Kanye's lyrics dissing Taylor Swift.
Kanye, in peak Kanye fashion, then explained in a series of tweets he was not, in fact, dissing Taylor because he lives in a world of Kanye logic, remember?
The lyrics under scrutiny, by the way, are in his song "Famous."
In the song, Kanye says,
I feel like me and Taylor might still have sex. Why? I made that bitch famous.
OK. Sure, Kanye. It's not a diss. Whatever. Taylor can handle herself. But Taylor's not the only one feelin' the weird Kanye love -- he also calls out Kim Kardashian West and Ray J, Kim's ex, on the album.
In his song "High Lights," Kanye raps,
I bet me and Ray J would be friends / If we ain't love the same bitch / Yeah, he might have hit it first / Only problem is I'm rich.
The "hit it first" line references Ray J's own song from 2013 called "I Hit It First," which, yes, is all about how Ray J "hit it" before Kanye. ("It" being a living, breathing woman named Kim. You know, if you want to get humane about it.)
Well, it's nice Kanye can feel the potential for brotherly bonding with Ray J over their shared objectification of a woman. That's a classy move right there!
It does seem a little weird to bring up a 3-year-old song basically all about his wife's sex tape.
But, if Kanye West made smart, respectful decisions, he wouldn't be Kanye West, would he?
Citations: Kanye West Also References Kim Kardashian's Sex Tape On His New Album (BuzzFeed)