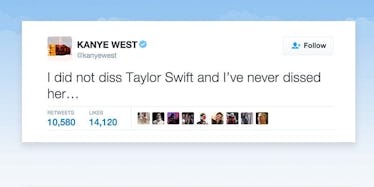 Kanye West Explains That Taylor Swift Diss With A Classic Twitter Rant
AHHHHH! KANYE IS LIST-TWEET-RANTING AGAIN! THANK. EFFING. GOD.
While you were sipping your coffee and commuting to work, Kanye West had one of his bi-weekly, early morning Twitter meltdowns, and BOY is this one a doozy.
We saw him ranting during his beef with Wiz, and now we're seeing it during the aftermath of "I feel like me and Taylor (Swift) might still have sex/ Why? I made that bitch famous"-gate at YEEZY Season 3.
Let's dig in, shall we?
....
.......
.........
YESSSSSSS!!! THIS RANT WAS EVERYTHING!!!!!! "Bitch" is an endearing term to call a loved one, and Taylor apparently was all like "a chance to be called a bitch by Kanye?!?! SIGN ME UP!!"
We'll update as more information comes in. Just be aware that last time something like this happened, we found out Kanye likes a good ol' fashion finger in his butt.
Who KNOWS what we'll find out this time!