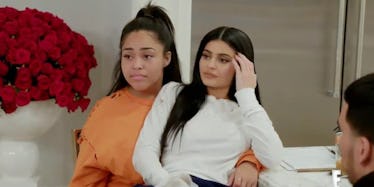 Jordyn Woods Opens Up About Friendship With Kylie Jenner: "It's Draining Sometimes"
YouTube
If you aren't sitting on your couch in total anticipation for Kylie Jenner's new reality TV spin-off, Life of Kylie, then you can get the heck out of my life.
The youngest Kardashian/Jenner sister has been teasing her new series set to premiere at 9 p.m. on Sunday, August 6, and can I be the most real with you guys? I can't look away from this girl.
The world has watched Kylie go through her most formative years in the very public eye of the Kardashian limelight, and now she's telling all in a series designed just for her.
Part of that involves taking a peek behind the lips and into the real life of Kylie, including her inner social circle.
Jordyn Woods, model and long-time best friend of Kylie, opens up in the latest teaser saying, "It's draining sometimes being Kylie's best friend."
I mean, yeah. Sounds about right.
Jordyn is probably the most featured person on Kylie's Instagram, second to herself. One can imagine that while there seem to be many private jets involved in this friendship, there's probably an insane amount of drama as well.
Between her family life being displayed on national television and her 175 million followers, there is a lot going on with Kylie, and if you can't stand the heat, it definitely seems like a good time to get out of Kylie's kitchen.
Kylie explains in her trailer, "When you grow up on camera, everybody feels like they know you. But they don't."
She goes on to say that while the show is a gift for her fans, don't expect it to be like KUWTK. Kylie says,
This is like a therapy session... now I can find what really is going to make me happy.
Based on the trailers, fans can expect loads of behind the scenes looks into Kylie's life and lots and lots of Jordyn to go with it.
Jordyn, good luck.