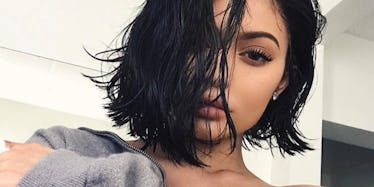 Kylie Jenner Is Getting Her Own Reality Series And The Name Sort Of Sucks
We need to talk about Kylie Jenner's new reality series.
According to reports, the 19-year-old model is getting her own "Keeping Up with the Kardashians" spinoff, and the name of Kylie's new show, well, definitely leaves something to be desired.
The show, which will reportedly debut this summer on E!, is called "Life of Kylie," so it doesn't appear as if there was a very intensive creative process in coming up with the name of the program.
In its inaugural season, Kylie Jenner's reality show will run for eight episodes, with each episode airing for 30 minutes.
According to a press release for "Life of Kylie,"
[The show] navigates her unique life as an entrepreneur, fashion designer, author, television star, style icon, and CEO/Founder of Kylie Cosmetics.
Uh, OK.
Apparently, the "Life of Kylie" will also showcase Kylie Jenner's daily life, where she goes around hanging out with friends and family.
Sounds exactly like "Keeping Up with the Kardashians," but sure.
In a statement, the 19-year-old said,
The last couple years have been such an incredible journey with the support of my fans. This show will allow me to give them a peek inside all of the exciting things I am working on as well as some personal time with friends.
Don't get me wrong, I'm sure if you're a fan of "Keeping Up with the Kardashians," you're probably going to enjoy "Life of Kylie."
I'm just saying, they could've come up with a more creative name for the show.
I wonder if Tyga will make an appearance on Kylie's show.
Last week, the 27-year-old rapper reportedly moved out of his ex-girlfriend's home after the pair called it quits on their relationship.
Speaking on their complicated relationship status, a source said,
They tend to take little breaks all the time and then get back together. It's definitely possible they'll work things out again. Tyga does really make Kylie happy, and when they break up it makes Kylie super sad. He's her first big love and they still speak every day.
Can't wait for the summer!
Citations: Kylie Jenner scores her own Keeping Up with the Kardashians spinoff, Life of Kylie (Entertainment Weekly)