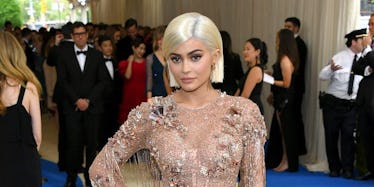 Kylie Jenner Drops Major 'Life Of Kylie' BTS Info At The Met Gala
Getty Images
Is Kylie Jenner a new woman?
It seems the young reality starlet has been making some serious changes lately.
For one? Boyfriends.
There was a time when the thought of Kylie without Tyga was unimaginable -- but now, rumor has it she's dating Travis Scott.
Those Instagram revenge photos aren't easy to see. We feel for ya, T.
Then, there's her outfit selections.
Did anyone else think her Met Gala choice was surprisingly... tame?
Normally, we're used to seeing Kylie with a little less fabric, so it came as a shock that she went with this number.
Her sister, on the other hand, pulled a Rose McGowan with her barely-there black dress:
Though Kendall's cheeks were on full display, our attention was still focused on Kylie -- especially after she made a major reveal about her reality show.
While at the Gala, Kylie said,
It really is going to be shot a lot differently than 'Keeping Up.' It's more docu-series, super behind the scenes of my life, and just like, taking people behind the scenes of my personal life. So like, my work ethic, and Kylie Cosmetics.
We do love those lip kits, so it's a good thing the show will be focusing on Kylie Cosmetics, right?
For its inaugural season, the reality show will run eight episodes that will air for 30 minutes each.
In a recent statement, our girl said,
The last couple years have been such an incredible journey with the support of my fans. This show will allow me to give them a peek inside all of the exciting things I am working on as well as some personal time with friends.
OK, so can we really be sure she's a different woman? After all, this super-docu-series with its behind-the-scenes footage does sound pretty familiar to things we've seen before.
Is Kylie really making a big change? You be the judge.