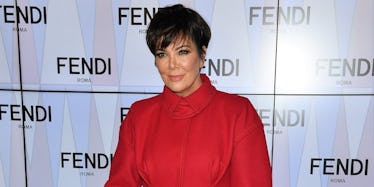 Kris Jenner Finally Addressed The Kylie Pregnancy Rumors With A Really Vague Response
Venturelli/ Getty Images
Kylie Jenner's mother, Kris Jenner, finally responded to the rumors that say her 20-year-old daughter is pregnant with her first child. In an interview with The Cut, the fashionable mom talked about Kylie's current state, and Kris Jenner's response to Kylie Jenner's pregnancy rumors are so vague they'll leave you scratching your head.
On Saturday morning, Sept. 23, Kris was interviewed at Bottega Veneta, where The Cut asked her about Kylie Jenner's baby rumors (among other fashion-related subjects). When asked if she knew that Kylie's pregnancy rumors were going to break while she was at the Versace fashion show, she said,
I just woke up this morning. She's not confirmed anything. I think it's kind of wild that everyone is just assuming that that's just happening.
Elite Daily reached out to Jenner for further clarification but did not hear back at the time of publication.
But, wait. WHAT DOES THIS MEAN?! Is Kylie Jenner really pregnant, or have we all simply been tricked into thinking she is? C'mon, Kris. We need a little bit more information to keep us afloat. The mother-of-six continued her confusing answer and further explained why she didn't know the rumors were going to happen on Friday night.
She said, "Something happens every single day. You never know what is going to break at any moment."
Oh, um... OK.
She's right -- something does happen every single day, and you really don't know what's going to break at any moment. However, news that Kylie Jenner might be pregnant pretty much broke the internet, and we're dying for some answers from Mama Kardashian. Even thought Kylie hasn't directly confirmed her rumored pregnancy with 25-year-old Travis Scott, a few sources seem to know exactly what's going on regarding the young couple.
According to TMZ, Kylie already started telling friends about her rumored pregnancy. Apparently, Kylie started telling close ones about the news earlier this month at Day N Night Fest in Anaheim, California. An unnamed source also told TMZ that Travis started telling friends about the rumored baby alert, and that they might be having a girl. However, TMZ cannot verify the gender report just yet.
Another unnamed source told People that Kylie's baby is expected to arrive in February. That's, like, really soon?!?! Anyway, the source reportedly said, "They started telling friends a few weeks ago," and that "The family has known for quite some time." Apparently, Kylie is "really excited," and so is Travis. Sheesh, guys! Way to keep a secret from all of us.
A different insider also told People that Travis started telling his friends about the pregnancy in July. They said "He was so excited he couldn't keep it in," and that "He's been so affectionate and protective of Kylie since they found out. He can't wait to be a dad." That's so sweet!
Even though Kris Jenner's response to her daughter's pregnancy rumors were anything buy helpful, we're happy someone in the family acknowledged the baby headlines. Everyone else, on the other hand, is seemingly staying silent. I'm super curious to see what Kim has to say about the baby rumors, though. In fact, Kim is oddly tied to a bizarre conspiracy theory concerning the rumored pregnancy, and it'll probably blow your mind.
Ever since news broke that Kylie might be pregnant, fans automatically started wondering if Kylie is Kim's surrogate mother. It's been no secret lately that Kim and her husband, Kanye West, have been trying to have a third child. Kim has considered surrogacy for her next pregnancy, which means this theory could make sense.
If that's the case, I wonder what Kris is going to say about one of her daughters being pregnant with her other daughter's daughter (or son). I guess we'll have to wait and find out.