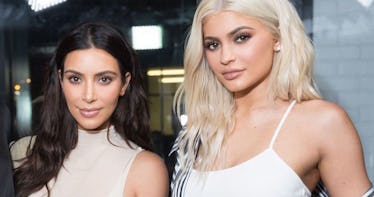 People Are Saying Kylie Is Kim Kardashian's Surrogate, Here's What We Know
REX/Shutterstock
As soon as it was announced that Kylie Jenner was reportedly pregnant with Travis Scott's baby, the internet was quite literally set on fire -- which is coincidentally what Jenner said in her Instagram caption in her first picture post that featured Travis Scott. Well, she said, "It's lit," but same thing, right? Now that we're all trying to slowly digest Kylie Jenner's reported pregnancy news at 5 p.m. on a Friday (the Kardashians never sleep, people!), the internet is slowly, of course, coming up with new conspiracy theories. The latest question people are asking is, is Kylie Kim's surrogate?
It's no secret that Kim Kardashian and husband Kanye West have been trying to have a third child. The couple already has a daughter, North West, who is 4, and son Saint, who is about 22 months old. Kim was very open with her struggles she experienced while being pregnant on her show, Keeping Up With The Kardashians, and even explored the option of a surrogate on the show's most recent season. There have been reports that Kim has found a surrogate, but the star has diffused questions about the situation. This was presumably done so the surrogacy could be shown and discussed on the next season of KUWTK, but fans are saying the surrogate is Kylie.
This is probably one of the wildest rumors to already come out of the Kylie and Travis Scott pregnancy rumors, but Twitter is standing by its beliefs and really going for this one. Elite Daily has reached out to both Kim Kardashian and Kylie Jenner on the matter of Kylie's alleged pregnancy, but did not hear back at the time of publication.
Twitter Immediately Started Asking The Question
Kim has been very vocal about her doctor's warning that having a third child herself would not be a safe option for her. She said in an episode of KUWTK,
If the two doctors that I trust have told me it wouldn't be safe for me to get pregnant again, I have to listen to that. But because I don't know anyone that has been a surrogate or used one, I didn't really think about that as an option for me.
Some People Think The Kylie Pregnancy Announcement Is All Part Of A Larger Scheme
Others Tweet The Conspiracy Theory And Then Wonder Why They Even Care
Literally, Demi-Leigh, you are all of us. Why do we care about literally anything and everything the Kardashian-Jenners do? Why is Donald Trump president? Why are we talking about nuclear warfare in 2017? Honestly, this isn't the first thing to not make sense this year. We're here for you, Demi-Leigh.
Others Are Using This Moment To Fat Shame Kanye, Which Is Not OK
New photos emerged of the rapper today, and Twitter has been shaming his "dad bod." This joke definitely crosses the line. It has been public knowledge that West has reportedly gone through a lot of mental health issues this year, and his appearance and assumptions about how he's doing should never be commented on.
The Kardashian-Jenners Have Experienced A Lot, And Fans Think This Theory Is Just Adding To It
No Matter What's Going On Here, We Can All Agree Twitter Needs Answers
Cue the Kris Jenner memes, y'all! A reminder to you, Twitter, that the sources confirming Kylie Jenner's reported pregnancy are all saying explicitly that it's with Travis Scott's baby. Maybe if it was just being reported that Kylie Jenner was pregnant -- period -- then I might be more inclined to speculate myself.
But that's what the internet does. It has extremely random thoughts and then widely publishes them for all the world to see.
Others Are Saying Kim's Surrogacy News Is A Fake Story In The First Place
Kim Kardashian has not confirmed that she has a surrogate... at all. Every report on this is all speculation. This Twitter user provided a friendly reminder that assuming makes an ass out of "u" and "me," people. So let's just wait for more news, and wish the Kardashian-Jenners the best, regardless of what's really going on.
If you disagree, I guess you can just tweet about it.