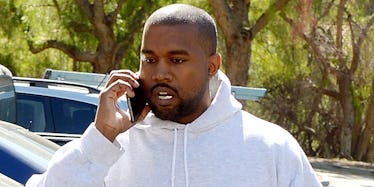 Kanye West Recovers From 'Psychotic Breakdown' As Fans Post Emotional Tweets
REX/Shutterstock
Twitter is flooded with messages of support for Kanye West after he was taken to the hospital suffering a "psychotic breakdown."
People are posting poignant photos and videos of the rapper under the hashtag "PrayForKanye" after he was taken to UCLA Medical Center last night following a rant about Beyonce and Jay-Z on stage in Sacramento over the weekend.
Friends say he is sleep deprived and will sometimes stay up for 48 hours at a time.
The situation is so serious, Kim Kardashian canceled her appearance at the Angel Ball in New York City and flew back to LA to be with her husband.
It would have been her first public appearance since she was held at gunpoint and robbed in Paris in October.
People tweeted photos from his show on Saturday night, which suddenly look heartbreaking in light of the news.
They posted videos of the rapper and suggested the warning signs were there all along.
And others reminded people that -- love him or hate him -- he's still human.
A source told DailyMail.com Kanye's breakdown has nothing to do with drugs and is purely mental. The close friend said,
Kim is fed up. They've been bickering constantly - she didn't want Kanye to do the tour in the first place. She wanted him by her side as she recovered from her traumatic robbery in Paris. She lost days with him while he's touring and then he made a rash decision to end the concert after ten minutes and go on a rant. He had a psychotic break. Kanye is very hot tempered and he's very reactionary. A lot of times, he speaks before he thinks and he's very sensitive.
The source added,
We're all really worried about Kim – no one has been able to get hold of her since it happened. Kim got through her ordeal without losing her mind and now she has to deal with Kanye losing his. She has to take care of him when really, she needs taking care of herself. She's still not fully recovered and now she has to deal with this. It's a complete mess.
Kanye is reported to have made the decision to seek help himself.
Before this news came to light, Kris Jenner opened up about Kanye's health. ET reports she said at the Angel Ball,
I think he's exhausted. Just really tired. It's a grueling tour.
She added Kim herself is taking it "one step at a time" in her gunpoint robbery recovery.
Citations: Daily Mail, ET