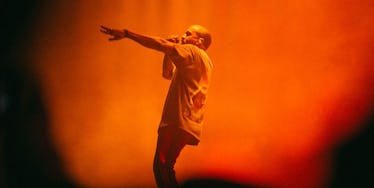 Kanye West Had Some Major Beef With Beyoncé On Stage, Instantly Gets Booed
REX/Shutterstock
It's not like Kanye West to stop performing mid-set and go on a massive rant about his life...
Yep, he's done it again.
This time, he took aim at Beyoncé and Jay Z, and the audience in Sacramento on Saturday night wasn't happy.
The rapper was shouting big, angry words about the celebs who he's obviously got beef with. He ranted,
Beyoncé I was hurt because I heard you said you wouldn't perform unless you won video of the year over me and over "Hotline Bling." In my opinion...  Now don't go trying to diss Beyoncé. She's great. Taylor Swift is great. We are all great people. But sometimes, we be playing the politics too much and forget who we are, just to win.
Video footage caught by someone in the crowd shows fans getting increasingly impatient. Eventually, people start booing and swearing at Kanye.
But he continues,
I've been sent here to give y'all my truth, even at the risk of my own life, even at the risk of my own success, my own career. I've been sent here to give y'all the truth. Jay Z, Call me, brah. You still ain't called me. Jay Z, I know you've got killers. Please don't send them at my head, just call me. Come to me like a man.
Kanye added,
I'm not trying to be "the man," I just am "a man" — the same as everybody here.
Kanye had only performed a few songs before he went off on one. Then he addressed the press and said "get ready for a field day — because the show's over." He dropped the mic.
Kanye West tells the crowd the show is over after performing 3 songs. #SaintPabloTour #SaintPablo so much disbelief.. pic.twitter.com/skre0y678Z — Daniel Duque (@Danielll309) November 20, 2016
We're not mad Kanye, we're just disappointed. So very disappointed.