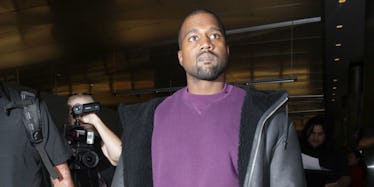 Kanye West Hospitalized Following Concert Rants And Cancellations
REX/Shutterstock
Kanye West is now undergoing psychiatric evaluations at UCLA Medical Center following an intense, mid-concert rant, in which the rapper called out Beyoncé and Jay Z.
In another rant before that incident, Kanye endorsed President-elect Donald Trump after the election, despite the fact that West didn't vote. He also said that he would be running for president in 2020.
West abruptly cancelled the rest of his Saint Pablo tour on Monday, and no reason was given for these cancellations.
Police responded to a call for a welfare check on Kanye West at 1:20 pm PST, however he was not home. Some reports say that it was due to a disturbance call.
According to TMZ, paramedics responded along with police and transported Kanye to the LA hospital in an ambulance. There was no criminal activity involved.
Sources report that Kanye was being checked out by one of his doctors for severe sleep deprivation. It was recommended West be admitted to the hospital for his own safety and health.
Kanye West tells the crowd the show is over after performing 3 songs. #SaintPabloTour #SaintPablo so much disbelief.. pic.twitter.com/skre0y678Z — Daniel (@Danielll309) November 20, 2016
On Saturday night, West told his audience,
I've been sent here to give y'all my truth, even at the risk of my own life. At the risk of my own success. I'll give y'all the truth. Jay Z, call me, you still ain't called me.… Jay Z, I know you got killers. Please don't send them at my head. Just call me. Talk to me like a man.
A source told People the hospitalization is due to exhaustion. They explained,
He is exhausted and currently dealing with sleep deprivation. He went to the hospital at will under the advise of his physician. He's fine.
They also added that West was not restrained, and that "he went freely."
His wife Kim Kardashian was set to appear at the Angel Ball in New York City, but she didn't attend. It would have been her first appearance in public since she was held at gunpoint and robbed in Paris in October.
Citations: Kanye West Hospitalized After Canceling Tour: Sources (NBC)