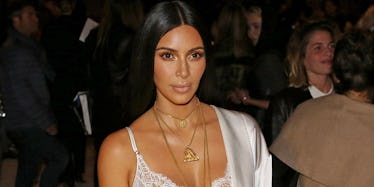 Kim Kardashian Was Held Up At Gunpoint Inside Her Hotel Room In Paris
REX/Shutterstock
UPDATE 7:14 am EST: The thieves are believed to have stolen a ring and a box of jewelry worth around $10million, according to multiple sources.
Kim Kardashian was held up at gunpoint by two masked men in her hotel room in Paris, France.
The incident occurred during the early hours of Monday morning, as Kardashian was abroad with some of her family members for Paris fashion week.
Kardashian's spokesperson, Ian Treciokas, gave CNN some of the details, including that the reality star was not wounded,
Kim Kardashian West was held up at gunpoint inside her Paris hotel room this evening, by two armed masked men dressed as police officers. She is badly shaken but physically unharmed.
Kim was away with her mother Kris Jenner and two of her sisters, Kourtney Kardashian and Kendall Jenner, for the week. However, her husband, Kanye West, was performing at a New York music festival in Flushing Meadows, Queens.
West received the news in the middle of his performance and immediately excused himself off the stage. It's reported Kanye cut his performance 20 minutes short after he had showed up 30 minutes late.
One fan captured video footage of the artist ending his set abruptly in the middle of his performance of the hit song "Heartless."
In the video, Kanye can be heard, saying to the crowd,
I'm sorry, there's a family emergency, I have to stop the show.
When Kanye West starts Heartless and then stops the show because of a family emergency pic.twitter.com/0xiPDycb4g — Chloe (@itschloet) October 3, 2016
A fan who was at the concert described the scene via Twitter, adding that Kanye's assistant had to pull the 39-year-old rapper to the side in order to deliver the bad news.
Kanye's assistant pulled him to the side of the stage then Ye got on the mic saying he had a family emergency then stopped the show.
Earlier on Sunday, Kim Kardashian had attended the Givenchy fashion show in Paris before heading to her hotel.
It is unclear at this time whether Kardashian was robbed of any of her belongings or whether the men were apprehended.
We will be updating with new information with more details as they emerge.
Citations: CNN, Daily Mail