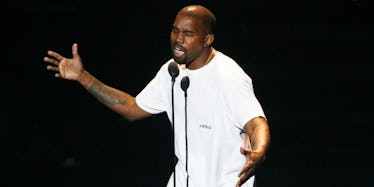 Kanye West Canceled Yet Another Show And Now The Whole Tour Is Off
REUTERS
Saturday night, roughly just 30 minutes into his Sacramento concert, Kanye West started ranting about Beyoncé and Jay Z on stage. The crowd wasn't feeling it, and following his speech, Kanye West called the show off altogether.
Obviously, the Sacramento crowd was pissed.
Kanye West tells the crowd the show is over after performing 3 songs. #SaintPabloTour #SaintPablo so much disbelief.. pic.twitter.com/skre0y678Z — Daniel (@Danielll309) November 20, 2016
But there's a good chance Kanye West's fans in Los Angeles were even more pissed when the rapper called off the Saint Pablo Tour LA concert just hours before he was scheduled to take the stage at The Forum.
Naturally, fans were outraged over Kanye's decision, and the focus immediately turned to folks getting refunded for purchasing tickets to the Saint Pablo Tour show at The Forum.
According to reports, Kanye is looking to have "a breather to deal with the personal issues" before he performs in concert again.
Following the above statement, the focus shifted to the rest of Kanye's scheduled concerts, with LA Times reporter Gerrick D. Kennedy reporting the whole Saint Pablo Tour is canceled.
At the Sacramento show Saturday night, Kanye West said,
Beyoncé, I was hurt because I heard you said you wouldn't perform unless you won video of the year over me and over 'Hotline Bling.' In my opinion… Now don't go trying to diss Beyoncé. She's great. Taylor Swift is great. We are all great people. But sometimes, we be playing the politics too much and forget who we are, just to win.
He continued,
I've been sent here to give y'all my truth, even at the risk of my own life, even at the risk of my own success, my own career. I've been sent here to give y'all the truth. Jay Z, Call me, brah. You still ain't called me. Jay Z, I know you've got killers. Please don't send them at my head, just call me. Come to me like a man.
What's really good, Mr. West?
*Update 11:30 am EST: A representative for Kanye West has confirmed the remaining 21 concerts of the Saint Pablo Tour have been canceled.
Citations: Kanye West Just Canceled His L.A. Show — and Possibly the Rest of His U.S. Tour (Cosmopolitan)