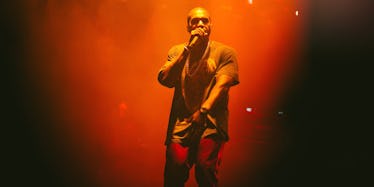 Kanye Said He 'Would've Voted For Trump' And The Internet's Having A Meltdown
REX/Shutterstock
Juuuussssst when you'd finally stopped waking up on a tear-soaked pillow, nightmares of what lie ahead for you and your human rights during the impending Trump presidency still lingering in the forefront of your mind, Kanye West opens his mouth and crushes your spirit into a fine powder.
Then, he scoops your powder spirit into his hands and scatters it to the wind. You never feel again. Life is simple and hollow. Horror abounds.
Yeezy fans in San Jose were the first to experience this profound disappointment when, during a stop on his Saint Pablo tour, the rapper made time in his set to praise Donald Trump and reveal he didn't vote for either candidate.
He just... didn't vote.
He might have braided wife Kim Kardashian West's hair or gone to Jack in the Box, but Kanye West was not at the polls on November 8.
He didn't vote.
Had he participated in the election of our 45th president, the 39-year-old rapper told the crowd he would have voted for the Donald.
Kanye has never been afraid to speak his mind and praised Trump for maintaining a similar stance on political correctness, failing to mention Trump's outspokenness generally involves racist, sexist and xenophobic rhetoric.
Kanye's version and Trump's version of being outspoken and un-PC were, until now, quite different.
This doesn't seem to be the same Kanye who, back in 2005, famously interrupted his scripted routine with Mike Myers during NBCUniversal's "A Concert for Hurricane Relief" to remind viewers, "George Bush doesn't care about black people."
During the San Jose appearance, Yeezy told the audience black people need to "stop focusing on racism," though he did admit, "we are in a racist country, period."
Kanye's support of Trump is especially surprising following an appearance on Steve Harvey's radio show in May, when the artist blamed the political climate for allowing quietly bigoted Americans to express their closeted racist agendas.
He said,
I'm not gonna mention no politicians' names, I'm just saying that there's a lot of people in America that feel like they now have the platform to stand up and express their closet racism.
The remainder of the presidential election only served to prove Kanye's words right, making his sudden support of Trump all the more baffling.
Fans immediately began to mourn Ye's status as their one true hero, which will likely hurt him when he runs for president in 2020, a plan he claimed he's sticking to per his 2015 VMAs rant.
Kanye West admits he supports Trump. If it's to be controversial, that's stupid. If it's earnest... nah, that's still pretty stupid. — Vanessa (@NessaKilgannon) November 18, 2016
It's official: America is broken and so is everything we love. Maybe even Kanye.
Citations: Kanye West said he would have voted for Trump and people are losing it (Mashable), Huffington Post