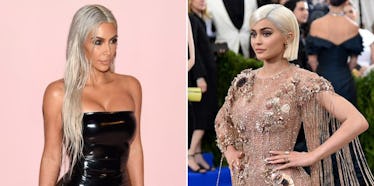 Kim K Calls Out Media For Fake Story On Her "Response" To Kylie Jenner's Pregnancy
Dimitrios Kambouris / Mike Coppola / Getty
It's been a long two days this week, hasn't it? News broke on Friday, Sept. 22, that Kylie Jenner is reportedly expecting a baby with her boyfriend Travis Scott and I feel like I suddenly haven't slept in 10 years. Nothing has been officially confirmed, but nothing has been officially denied, which you and I both know is the same thing as officially confirming. All eyes and ears have been on the famous family for hints of information, and reportedly Kim Kardashian's response to Kylie Jenner's pregnancy reports was... not great. Kim has since denied these allegations.
We all know that Kim is the most famous Kardashian (sorry, said it), and has long since been compared to her younger sister Kylie. Kimye is also rumored to be expecting their third baby via surrogate this January, which has been a not-so-secret secret, and an incredibly emotional journey after Kim suffered two difficult pregnancies with her first two children, North and Saint. It would make sense that the news of 20-year-old Kylie Jenner getting pregnant, particularly right now, would come as a shock.
A source told People,
Her first reaction was, 'Seriously?' She didn't respond well at first. It's like she and Kanye had gone on this whole journey to get pregnant for months, and now this happens to Kylie. She teared up. It definitely took a lot of time for her to process it.
Hm, hm, hm. I'm torn. As part of the public, our first response is probably something judgy, like, "Hey, wait a minute, that's not fair! Kim, get over yourself." But as a human being, you can imagine that after such a long, calculated, and methodical journey growing her own family, news like this could definitely be startling. WHOSE SIDE ARE WE ON, AMERICA?
The source continued,
It came out of nowhere. It was the last thing on their radar. Kylie is just 20 and hasn't been with [boyfriend Travis Scott] for very long. So no one saw this coming.
Harper's Bazaar also caught news of Kim's reaction to Kylie Jenner's pregnancy reports, and ran a similar story regarding her response. This did NOT sit well with Kim, who took to social media to squash the rumors.
She tweeted the link with the caption, "This sounds like a very fake story."
And she didn't stop there. Various sources have reported that Caitlyn Jenner confirmed Kylie's pregnancy, in so many words, when a rep of hers reportedly told The Sun that Caitlyn heard about the pregnancy "some time ago." Yikes.
But, Kim had some thoughts on that too. She added the tweet,
And speaking of fake stories... The media is super shady for posting fake quotes from Caitlyn when she hasn't spoke to anyone.
So there.
But still, Kim, what are your actual feelings? (And not to poke holes, but denying a story about something that hasn't even been confirmed yet feels sort of like a confirmation of said thing, right?)
The source for People was sure to add that at the end of the day, Kim will be there for Kylie.
Of course Kim is happy for Kylie. She's going to support Kylie 100 percent, no matter what. There's never been any question about that. But it's just a weird dynamic, after all that Kim did to intentionally have another child. It has taken a lot of time, energy, and money for her to get pregnant, and now Kylie is having a baby around the same time.
They also mentioned that the family still has their guard up around Travis Scott, wanting to ensure is isn't a "Blac Chyna situation." This, of course, is in reference to the catastrophic relationship that brother Rob Kardashian shares with his baby's mama, Chyna.
Still, if there's one thing the Kardashians love more than fame, it's babies.
The source concluded,
The babies will be the same age, and will probably be very close. Family is everything for the Kardashians, so they're going to focus on these new kids in the family. Everyone is genuinely happy.
Mmm hmm... we'll see.
Check out the entire Gen Why series and other videos on Facebook and the Bustle app across Apple TV, Roku, and Amazon Fire TV.