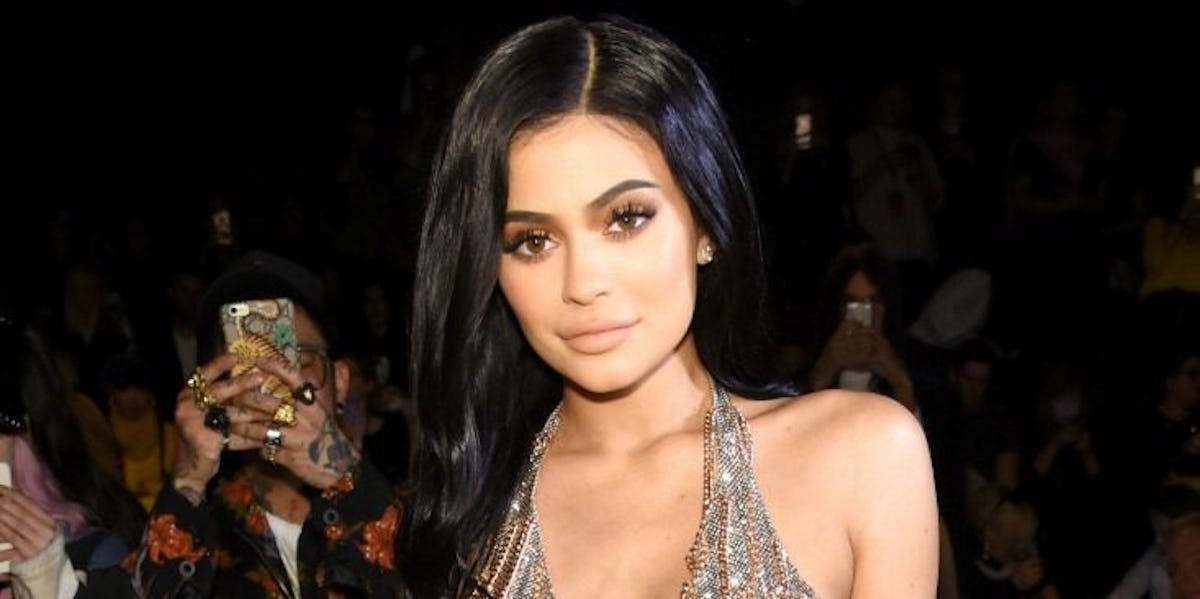 Kylie Jenner's Quotes About Having Kids Prove She's Always Wanted To Become A Mom
Jamie McCarthy/Getty Images
Kylie Jenner's reported pregnancy came as extremely shocking news and seemingly out of the blue. However, is it really that surprising? Kylie Jenner's quotes about having kids could prove she has always planned on starting a family young.
On Friday, Sept. 22, TMZ divulged that the 20-year-old makeup mogul is reportedly pregnant with Travis Scott's baby. The article claims sources close to Scott told the outlet Jenner is reportedly pregnant with the "Antidote" rapper's baby. Elite Daily reached out to both Jenner and Scott's teams, but did not hear back by the time of publication.
According to TMZ, Jenner has reportedly been spilling the news during the past month to friends. Although they "cannot verify," TMZ says the couple is reportedly having a girl. So... take that for what it's worth. If Jenner is having a girl, she will be over-the-moon excited. She gushed to Teen Vogue in 2015,
When I look to the far future and decide to have kids, I need to have a million girls ... Ten years from now — in 2025 — I hope I have a kid.
A little ahead of schedule, but one thing is for sure — Jenner definitely wants kids (whether it's this year or not). She said during a Life of Kylie confessional,
I do want kids ... Who doesn't want kids? My dogs feel like my little kids.
It seems like Jenner has already done some planning. On an exclusive video shared via Kylie's app, the social media influencer told her best friend, Jordyn Woods,
I keep a list in my phone of names I like for my future kids. But they're my secrets for now.
Awww man.
At this point, neither Jenner nor Scott have commented on the pregnancy rumors, but the news is so far out of the bag — it can't really be ignored.
Needless to say, people are keeping a very close eye on Jenner's social media accounts (and the rest of the Kardashian-Jenner clans' accounts, for that matter) for confirmation. No one directly related to Jenner has tweeted, snapped, or Insta'd about the pregnancy news. So, while we wait on that, there may be some clues that this pregnancy isn't so unexpected.
Jenner has always been very candid about wanting to start a family young. During an episode of Keeping Up With The Kardashians in 2016, Kylie sounded definite about having kids in her 20s. She said,
I feel like 30 is too late [to have kids]!
She backed this up on Khloé Kardashian's talk show when she said,
I want kids for sure and I feel like seeing [my sisters] go through [motherhood], it's great knowledge. I feel like I want kids before I'm 30.
I'm over here deciding if I can spring for an extra topping on my pizza and Kylie Jenner is making some huge life changes with Travis Scott.
Although Jenner and Scott have only been together since April — about five months — the two are basically attached at the hip and even permanently solidified their relationship with matching butterfly tattoos. The butterfly is a nod to Scott's popular song, "Butterfly Effect," which many fans believe is about Jenner. Mostly because it's been reported that Scott's cute-coupley nickname for Jenner is Butterfly. We get it, you're adorable.
Scott and Jenner have had an insanely public relationship since rumors began swirling about the two. Really, anything that has to do with Kylie Jenner is highly publicized. However, that will probably change once Jenner has children. In 2015, during an interview with Elle UK, Jenner admitted she'll probably leave social media behind when she has a family.
Once I have a kid I'm not going to be on Instagram... You know, I'll probably delete my Instagram and just... I don't know, live life.
Leaving fame is not something that bothers Jenner. She continued,
I would love to have a family and build a home with a farm in Malibu Canyon and just have my kids and throw away my phone. Just really, like live my life and not do this anymore.
I really admire Jenner for her outlook on fame — some things are just more important in the long run. We all know how much Jenner loves her animals.
Her house is full of dogs and chickens, and she intends to live on a farm after having kids.
She revealed on Life of Kylie,
I really want to live on a farm and have chickens and raise animals and have a family.
Jenner has achieved more success in 20 years than most people experience in a lifetime. If you want to live off the grid with your chickens and family — do you, girl.
Kylie Jenner, please comment on these pregnancy rumors soon — I can't take it much longer!
Check out the entire Gen Why series and other videos on Facebook and the Bustle app across Apple TV, Roku, and Amazon Fire TV.