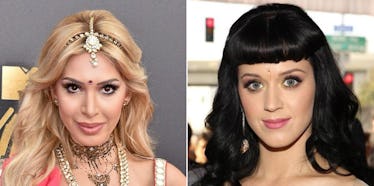 6 Celebrities Who Have Been Called Out For Appropriating Indian Culture
Getty Images
From red carpets to music videos to Instagram selfies, culture appropriation is the gift that keeps on giving. No matter how many times people shout or tweet out their grievances, celebrities still find a way to turn other cultures into costume in an insensitive effort to be creative or show "appreciation."
While the most viral conversations about culture appropriation have usually been centered on black people, who see so many aspects of their lives pilfered by celebrities who could care less about the downside to being black in America, Indian culture has also been a source of, ehh, "style inspiration" for celebrities.
Here are the celebs who didn't hesitate to post a bindi on their foreheads or slip into some form of Indian traditional dress, perhaps without understanding the full context of why it may be appropriation.
1. Farrah Abraham.
The "Teen Mom OG" star hit the MTV Movie & TV Awards red carpet on Sunday wearing a Bollywood-inspired lengha, including a bindi on her forehead, a mehndi on her hands and a maang tikka in her hair. Abraham "wanted to bring culture to the red carpet," according to her statement to TooFab.
Twitter users, including those who are part of the Indian culture, swiftly called her out.
2. Selena Gomez
Farrah Abraham wasn't the first person to spice up the MTV awards show with culture appropriation. Selena Gomez performed her 2013 hit, "Come & Get It" wearing a red dress and red bindi on her forehead. Pre-show, she called her look "glam tribal."
The costume had Hindu officials demanding an apology from the young pop star, reported Huffpost.
Hindu statesman Rajan Zed said:
The bindi on the forehead is an ancient tradition in Hinduism and has religious significance. It is also sometimes referred to as the third eye and the flame, and it is an auspicious religious and spiritual symbol... It is not meant to be thrown around loosely for seductive effects or as a fashion accessory aiming at mercantile greed. Selena should apologize and then she should get acquainted with the basics of world religions.
Gomez's song also opens with a man singing Punjabi, a language native to northern India. The video and performance also included traditional Indian dances.
3. Katy Perry.
The singer was accused of appropriating the Hindu religion in an Instagram meme she shared to depict her "mood," reported Teen Vogue.
While many believers of the Hindu religion took no issue with the post, others felt she made light of a goddess that is respected in their faith.
One user wrote,
You can't put up a picture of the deity Khali and not know that it is not a joke. You cant disrespect a culture like that.
Another wrote,
This is so messed up wtf. Clearly you have no respect for our religion... I understand that you may not be a Hindu yourself but for actual Hindus, we see Shiva and Kali as gods. We don't post pictures of them simply to get as many likes as you do with the caption "current mood" because that is drastically disrespectful.
This isn't the first time Katy Perry has expressed her  fascination with the culture. The "Chained To Rhythm" singer also hit up the 2010 Grammy Awards red carpet wearing a bindi.
4. Iggy Azalea.
Iggy is practically the poster child for culture appropriation, so of course she got in on the Indian co-opt for her "Bounce" video.
5. Beyoncé.
In 2016, the pop star donned herself in traditional Desi garb in the video for Coldplay's, "Hymn For The Weekend."
The video received both praise and critique, with many viewers concerned that Beyoncé was too comfortable appropriating South Asian culture.
6. Miley Cyrus.
If Iggy Azalea is the poster child, then Miley Cyrus is her culture appropriating sibling. No culture has been off limits for the former "Hannah Montana" actress, so of course she has worn a bindi.
And so has her dog.
Culture appropriation might be a buzzword that makes your eyes roll...
But your irritation with having your entitlement to other cultures challenged doesn't make the act any less offensive to those who care about it.
Enjoying, respecting or being curious about a culture that is not yours is no a problem at all. It's natural to be intrigued by differences and heck yes, the traditional dress of Indian women is absolutely gorgeous in all its beaded, draped, flowing and brightly hued glory.
But that's where the admiration needs to stop. The moment a culture's accessory or garment with a significant meaning (spiritual or otherwise) is turned into your next Instagram selfie, Halloween costume or red carpet photo-op, you've stepped into "offensive" territory.
It doesn't matter if "some Indians" do not personally feel offended by it. There have been plenty of them who are offended by it and the ones who do not see a problem with it cannot speak for them. We do not get to pick and choose who is justified in their feelings about their own culture.
India already has a significant history of British colonialism under its belt and you borrowing their culture for mere aesthetics is just that on a smaller, yet still significant scale.
So the next time you think you want to "wear" Indian culture, there's an easy fix: Wear something else.