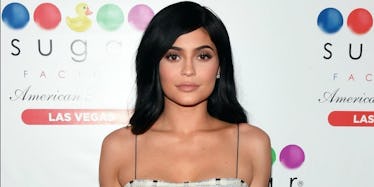 Kylie Jenner Went To Prom On 'Life Of Kylie' And Her Date Was The Real Star
Getty
The first episode of Kylie Jenner's new E! docu-series, Life of Kylie, paints a sympathetic picture of the youngest member of the Kardashian/Jenner clan. She declares that talking to a camera about her problems is just like therapy and reveals how much she's missed out on "normal" life events like going to prom. That's when we meet the lucky guy who gets to be Kylie Jenner's prom date, Albert Ochoa.
The shy, charming Rio Americano High School student serves two purposes in the show. First, he shows off Kylie's star power (she gets mobbed at the prom) and the benevolent ways she chooses to use it (Albert is introduced as a loser, by the end of the episode the whole school is chanting his name). Second, he gives Kylie a chance to talk about how much she relates to her outcast date, who his mom calls "an amazing kid," and "very emotional," but someone who "forgets how to be a kid" and is bullied by the underclassmen at his school.
Kylie, who was robbed of a childhood by her sisters' reality star dreams (KUTWK started filming when she was only 9 years old) and is a favorite target of the outraged online masses, can certainly relate.
You end up feeling bad for the 19-year-old star as she bends over backwards to make it to Albert's prom in Sacremento, getting the sense that she wants to make this kid's night as much as she's just trying to have one normal teenage experience herself. When her private plane malfunctions moments before taking off for the prom, she almost breaks down about how scared she is to go to the regular airport where paparazzi are sure to harass her. When she's trying on dresses before the event, she reveals that being homeschooled was not her choice and that she would've loved to have gone to prom like a normal kid.
While talking about Albert, Jenner confesses, "I have a soft spot for the outcast because I was the outcast I guess in a lot of ways growing up." She alludes to the fact that her and Kendall's storylines always took a backseat on KUWTK. It's worth noting that this was probably because both girls were minors for most of the show's run, but you get the feeling that Jenner doesn't really see it that way. She says that she still feels like an outsider, despite her 90 million Instagram followers and similarly huge Snapchat audience. Arriving on a private plane surrounded by a team of adults to the prom of a school she doesn't go to, you wonder if Albert is really the biggest outcast in this situation.
With the exception of her BFF, 19-year-old model Jordyn Woods, Jenner doesn't seem to have any friends who aren't paid to spend time with her. Her hair stylist, makeup artist, and executive assistant are the only other people the show introduces as her supporting cast. We meet all four of her dogs by name, but there isn't a single mention of her famously tight-knit family.
You don't actually get to see the conclusion of Kylie and Albert's prom saga in the premiere episode -- that's promised next week, but hopefully when it airs, we'll learn a little more about Albert and see if him and Jenner really have as much in common as it seems.